Webb swimmers make waves at CIF 2018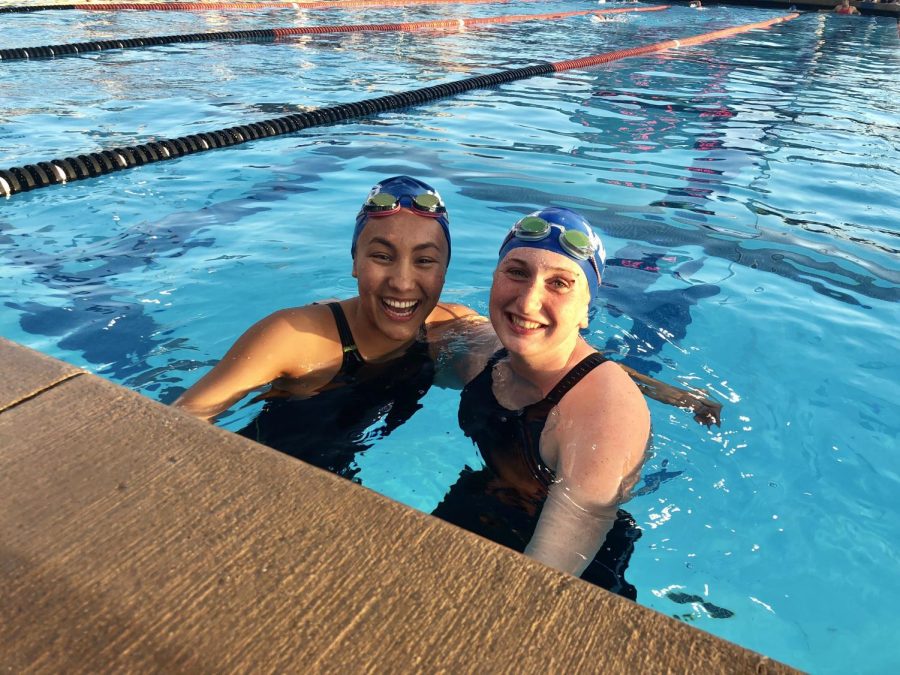 Mr. Ken Rosenfeld, Head Swim Coach of VWS and WSC, sent out the following email to all members of the swim team:
"Please wish our CIF Swimmers a BIG congratulations after CIF Prelims (Wednesday) & Finals (Thursday). Two days, seven broken/re-broken school records, two proud coaches, and one CIF champion. Before the full run-down, a quick plea for leniency on homework due tomorrow for the swimmers who attended CIF finals today. All are listed below and all deserve a bit of grace for the amount of time and energy left in the pool over these past two days.
Here's the rundown (in swim meet order) –
200 Medley Relay
Varsity Girls – Livia Hughson, Mary Davis, Allison Lilley, Sydney Wuu – Had a great swim at CIF Prelims dropping 1.67 seconds from their time at League Finals. 31st place.
200 Freestyle
Lindsay Jung reset her school record in the 200 Freestyle. It now stands at 2:02.24 – over 1.5 seconds faster than her previous school record! She took 23rd place in the event.  
200 IM
Rylie Brick broke her school record at Prelims by almost a full second (2:08.73) and was seeded 2nd going into Finals. She swam a touch off her top time at Finals but still finished 3rd in CIF in the event (2nd year in a row!!!!!).  
50 Free
Freshman Phenom, Kennedy Becher, had a terrific showing in the 50 both at Prelims and Finals dropping from 15th after Prelims to placing 12th at Finals. She's just a touch off the school record in the 50, but she should own it in the years to come.  
100 Butterfly
Kennedy Becher swam back-to-back races and still managed to place 19th in the event; she was just a mere 0.13 behind the girl who placed 18th (Top 18 swim at Finals). Great swim, but we're just in a fast division/section.  
500 Freestyle
Lindsay Jung had a heart-breaking race at Prelims. WAY ahead of her best pace in this event after the first 350, she looked unstoppable until her swim cap decided it had enough of the race and began to pull itself from her head. By the time she was swimming her final 75, there was hair everywhere, and the cap had left the pool and was hitching a ride home. She finished just a couple seconds off her school record time she set at League Finals and placed 23rd in CIF, but we're all left with the thoughts of "what could have been." She's fired up and ready for the event next year, but before focusing on next year, she wasn't finished helping set school records this year.   
200 Freestyle Relay
Varsity Girls – Kennedy Becher, Allison Lilley, Rylie Brick, and Lindsay Jung broke and rebroke their school record in this event in Prelims and Finals. They were 13th going into League Finals and finished 11th after dropping nearly 1.5 seconds from their school record-setting time the night before. Final time – 1:42.48
Varsity Boys – Gabriel Hong, Robert Torrance, Marty Hild, and Euson Hui all kicked off their 2018 CIF meet with this event at Prelims and swam about a half second faster than our time that won this event at League Finals and were just a half second shy of making it to Finals. They placed 20th in the event and looked for redemption in the 400 Free Relay.
100 Backstroke
After dropping two full seconds in this event at League Finals, Marty Hild jumped into his first individual event as a CIF swimmer and hit nearly the exact same FAST time he hit at league, dropping .02 and placing 26th in the event. He'll be someone to watch in this event next year.  
100 Breaststroke
After destroying her school record in this event at Prelims and earning the top-seeded spot going into Finals, Rylie Brick was the one to beat in this event. After a blazingly-fast, nail-biting race, Rylie WON the 100 Breaststroke and became CIF CHAMPION in the event. This is our first VWS CIF swim champion in my 13 years at Webb. She is in the running for an entry into the State Championships next week. We'll know by Sunday if she's in.  
Euson Hui, our League Champion in the 100 breast 2 years in a row, had spent the last 3 weeks of the season tweaking his stroke in order to shave off every last hundredth of a second in this race at CIF, and it paid off. He dropped 3 seconds from prelims to finals at League, and then dropped another .7 at CIF Prelims finishing his high school career in this event. 22nd place.
400 Freestyle Relay
Varsity Girls – I guess records are meant to be broken because the record in this event just isn't made to last. Kennedy Becher, Allison Lilley, Lindsay Jung, and Rylie Brick broke the school record in this event that had just be set at League Finals. THEN, at Finals, Kennedy, Mary Davis, Lindsay, and Rylie rebroke the record by another full second with Kennedy breaking the school record in the 100 Freestyle in the lead-off leg of the race (55.06). They placed 11th in the event.
Varsity Boys – Gabriel Hong, Robert Torrance, Marty Hild, and Euson Hui swam out of their minds in the final heat of the final event of a long day at Prelims. They dropped over 1.5 seconds from their best time of the season set at League Finals and placed 22nd. If you've never seen tangible excitement, you should have seen Gabe after he found out he lead off the race with a 51.69. I don't think he's stopped smiling since. All four boys had FAST swims and finished their season on a high note.
Well, it's late, and I apologize for anything I have forgotten or names/words I have misspelled. Coach Jurczak and I sat back at Corky's during our post-CIF traditional meal, and looked at our swimmers felt nothing but pride for how they all performed these two days. I can't think of any better way to finish this post-CIF email than with the way we finish every practice and every meet – "Push Hard. Dig Deep. Webb Swim. Webb Win."
About the Contributor
Sydney Wuu, Editor-in-Chief
Imagine being Editor-in-Chief for the Webb Canyon Chronicle, VWS all-school president, co-captain of the varsity tennis and water polo teams, and a big-time...