Discover Webb Day: When middle schoolers dominate campus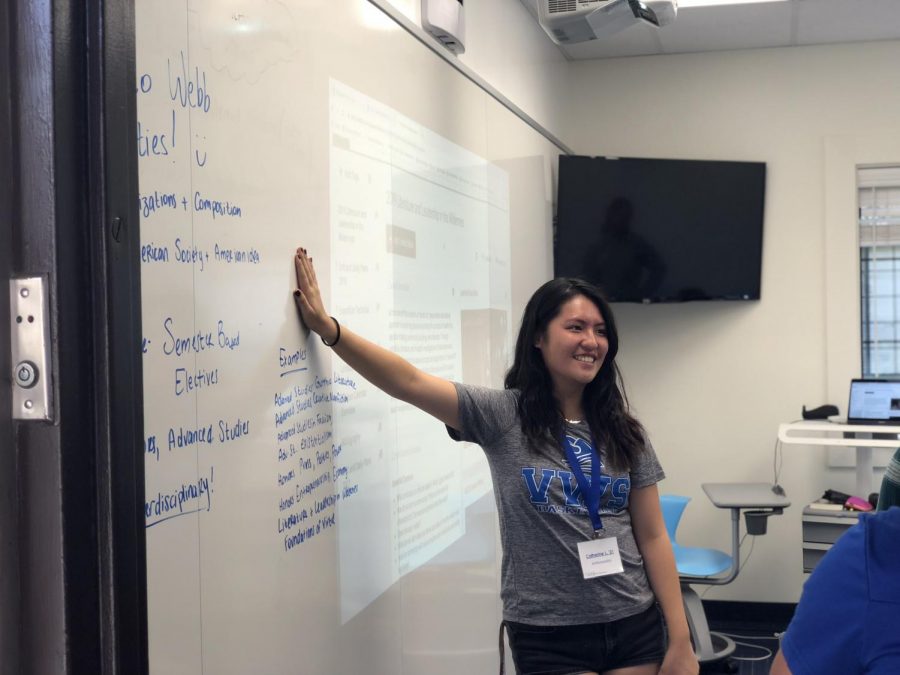 Choosing a new learning environment (and possibly home) for the next four years is a monumental milestone in any student's academic career. On Sunday, November 4th, Webb opened its gates to a flood of 324 junior high schoolers and their families from around the world for its annual Discover Webb Day.
The purpose of this admission open house was for high school students to gauge whether or not they feel becoming a Gaul is the best fit for their personal needs. From 1 to 3:30 p.m., prospective students and their families toured Webb's campus, got a sense for the atmosphere, and made conversation with both faculty and students.
David Martinsen, Associate Director of Admission, said, "This year, we changed the structure for Discover Webb Day to be more of a true open house. Instead of having an opening session, we opened it up for families to explore 23 different stops around campus. From 3:30 to 4, we hosted a Q&A session, which seemed to work well wrapping up any last-minute questions people may have had. Overall, we had an excellent turnout and it seemed like the families were really happy and engaged on campus learning more about Webb."
A large team of over 100 admission ambassadors and fellows spent their Sunday afternoons helping run this huge admission open house. Some student volunteers represented specific academic departments and experiential programs, while others helped direct guests to various pit-stops across campus.
Elaine Liu ('20), an admission fellow, was posted up at the Vivian Webb Chapel. She said, "I've enjoyed helping out with Webb admission events since my freshman year. Today, my job was to discuss the Chapel Council program and the building's history at Webb. We also used a map to direct visiting families to explore different specialized parts of campus like the Alf Museum and the Thornton Lab."
Lily Miller ('21), a first-year admission ambassador, served by the Hooper fountain. She said, "My job has been to talk about Hooper Student Center, direct visitors where they want to go, tell them about some of my personal experiences, and help them learn more about student life and athletics. This is my first time volunteering as an admission ambassador for a Webb event, and it's really enjoyable to see all the excitement from the visitors walking around campus."
Besides students, teachers also volunteered their early afternoons to showcase the learning opportunities available in their respective departments. Dr. Brendan Beikmann, a science department faculty, said, "It was fantastic meeting the prospective students. There are a lot of interesting young scientists applying to come here, and I think they would do a fantastic job when they are admitted in both expanding and diversifying our community."
In the second semester, stay on the lookout for more campus-wide admission events such as Revisit Day and Spring Preview Day.
About the Contributor
Sydney Wuu, Editor-in-Chief
Imagine being Editor-in-Chief for the Webb Canyon Chronicle, VWS all-school president, co-captain of the varsity tennis and water polo teams, and a big-time...