Prospective students preview their future at Webb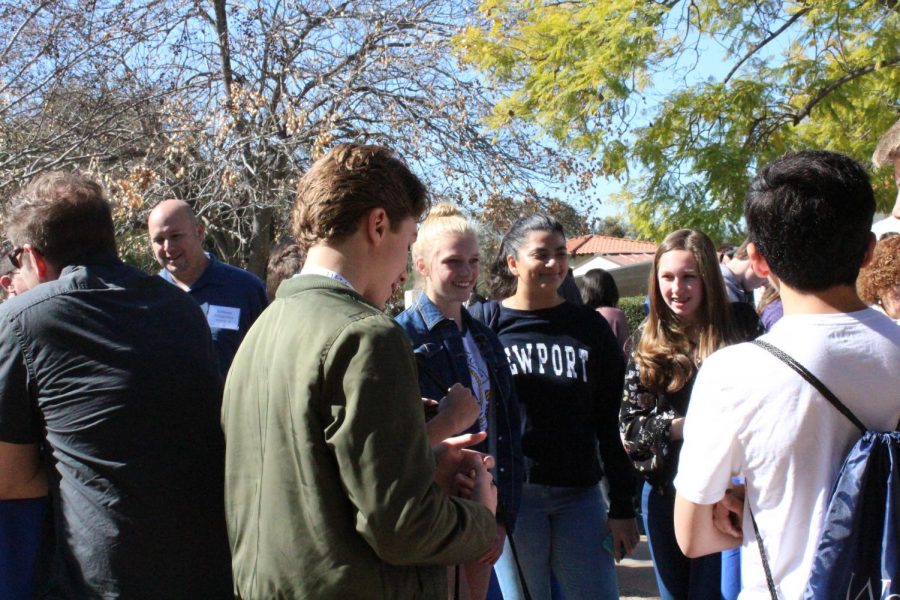 On March 27, prospective students of the class of 2022 stepped onto campus and experienced their first immersion into the Webb community. The Quad cement was covered in chalk expressing welcoming messages from the current student body as part of the semi-annual "Stress Less Week."
The Admissions Fellows along with the Admissions staff united to create an exceptional day for all those who visited campus. Balloons and welcome signs were placed across the campus as well. "We had key roles when it came to guiding people to where they had to go and leading people to classes," said Tony Jun ('18), an Admissions Fellow.
The Opening Welcome assembly took place in the Liu Cheung Theater, where prospective students and their family members gathered to learn more about Webb life and academics. Parents said their goodbyes as their kids were eventually guided to Price Dining Hall for lunch. Admissions ambassadors interacted with the students at the tables reserved specifically for the event. After lunch, the visitors received tours and spent time experiencing various Webb classroom settings dependent on the schedule they were given.
For the first time in Revisit Day history, a diverse range of optional activities, oriented by campus life, were available after all the class visits and tours. Anissa Medina ('18) delivered her chapel talk once more for those who were interested in hearing a "Senior Chapel Talk" in the Vivian Webb Chapel. There was also the opportunity to check out certain afternoon activities such as art, museum, theater, fitness, and yoga. Students were invited to observe one of the many sport events or games on that occured on Revisit Day, ranging from baseball to swimming and diving.
The possibilities of new friendships, the crowd of high schoolers rushing into the Dining Hall, and the intense card games are unforgettable aspects of Revisit Day. The majority of Webb students can still recall being excited to skip school for a day and take a glimpse of what high school at Webb would be like.
"I wanted to meet new people, so I sat at a table with people I didn't know. At my table, I didn't talk much and it was a little awkward, but it was nice to be with people that I knew I would be with. It's kinda like a fishbowl – being able to see everyone before the real experience," recalled Shyam Arya ('18).
According to David Martinson, Associate Director of Admissions, Revisit Day is a day meant to connect admitted students and parents to Webb life. He said, "Revisit Day is helpful for admitted students as they decide where to spend the next four years of high school. It was a very successful day, with 170 guests in attendance and with the feedback from the families saying that they really enjoyed the beautiful, warm and welcoming campus."
With the help of the admissions team, faculty, staff, and students, Revisit Day accomplished the ultimate goal to give a warm welcome to students who will join the Webb community in the fall of 2018.