LGBTQ+ and Allies Club extends the community for all students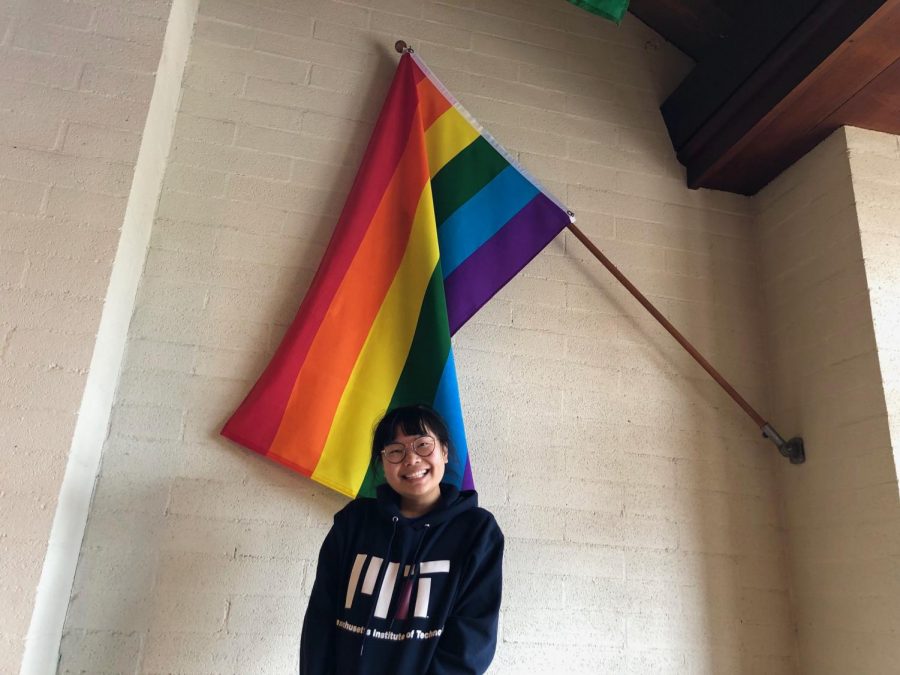 Within Webb's diverse student body and faculty, the LGBTQ+ community has created a place for discussion and acceptance: the LGBTQ+ and Allies Club. Their mission is to create an inclusive environment for all students and to spread knowledge about the LGBTQ+ community. Members of the club work together to make everyone feel comfortable with themselves and supported in their community.
Especially at a school like Webb, where the two-school system has established traditions, classes, and activities, the LGBTQ+ and Allies Club is a place where students can unite in a community to create a change. The pride flag even waves proudly in the Price Dining Hall.
LGBTQ+ and Allies Club Co-president Rachel Kho ('19) said, "Overall, what we want to do is make sure that people's existence is validated. We want to make sure they know that we're here to help them and we're here for inclusivity."
For LGBTQ+ students, the club is a safe place to come out and feel comfortable with who they are. The club presidents understand that there are pressures like family and religion, so the club serves as a community for those unsure about their identity to feel included. In addition, there are lot of allies in the club who are equally as welcoming. They do not have to identify as LBGTQ+, but are still important members of the club.
Co-president Erika Sampson ('19) said, "Freshman year, I didn't want to join the club because I am LGBT and I thought it would basically be outing myself to the entire school. But Siena [Fay ('17)] , who was the president of the club at the time, she had a rainbow flag on her backpack and she was always a very welcoming and kind person. So, sophomore year is when I finally joined the club, and I knew that I wanted to become a leader that other closeted kids could look up to, and [they could] know that 'Hey you're not alone, here's someone who's out and proud.'"
Ariel Benjamin ('20), a club member, said, "Everyone is welcome at the meetings regardless of how they identify because our main goal is just to make people feel welcome and to educate them about matters that might be new to them. It's awesome too because we're one of the largest clubs on campus, I think we have close to 100 members, so it's great to see people so devoted to making a difference and supporting their fellow students. I love that this club exists for people who need it and even for those who don't. It's important to have these kinds of safe spaces in every school."
To spread awareness, the LGBTQ+ and Allies club organizes a multitude of events throughout the year.
The club hosts movie screenings and are considering showing films such as The Imitation Game and Moonlight. These films show the journeys taken by members of the LGBTQ+ community over the courses of their lives, as well as the historical changes that have improved thousands of LGBTQ+ lives.
To show support for the community, the LGBTQ+ and Allies club hosts events year-round. They offer runs to Long Beach Lesbian & Gay Pride, one of the largest gay pride parades in the United States. The club also urges participation in Day of Silence, where students hold a day-long vow of silence to stand up for members of the LGBTQ+ community who have experienced bullying and harassment.
As a way to spread knowledge about the LGBTQ+ community, the club presidents run @webbpride, an Instagram account dedicated to advertising club activities. In the spring, the club will start posting biographies of historical figures from the community.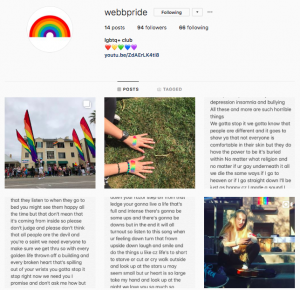 The LGBTQ+ and Allies Club also works with the Young Feminist Club, Black Student Union, and Jewish Club. This intersectionality creates deeper discussions and distinct groups where students can relate to one another.
Clubs like the LGBTQ+ and Allies Club allow the diverse student body at Webb to find smaller communities for themselves and feel more connected with one another.
About the Contributor
Summer Chen, Editor-in-Chief
A bonafide Libra, Summer Chen ('20), the Editor-in-Chief of Webb Canyon Chronicle, believes herself to be emotional, caring, and guided by her intuitions....