Webb swim & dive makes a splash at senior meet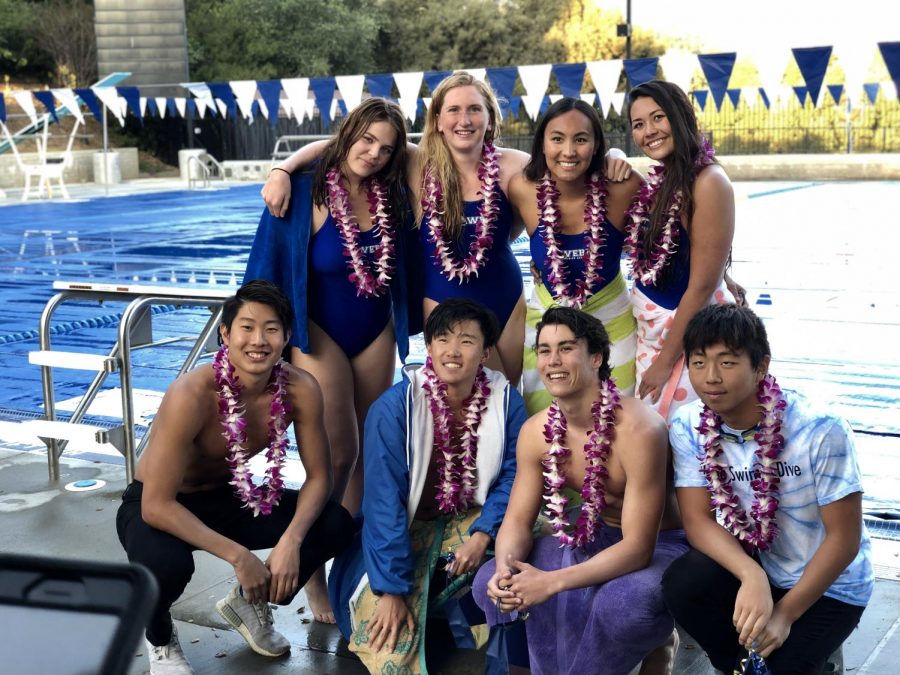 On Thursday, March 28th, Webb swim & dive emerged victorious against Calvary Chapel Downey at their final home league meet of the season.
From 3:15 to 5:30 p.m., deafening cheers of "Push hard, dig deep, Webb swim, Webb win!" echoed on the pool deck as swimmers and divers supported their teammates from the other side of the pool.
Each of the four squads dominated the competition by a tremendous margin. The final point totals for the senior meet were: varsity girls (Webb 141, CCD 15), varsity boys (Webb 112, CCD 22), JV girls (Webb 107, CCD 12), JV boys (Webb 53, CCD 19).
This year, Webb will graduate a total of eight seniors, three of whom currently lead the team as co-captains. The celebrations for the senior game included pool deck streamers and decorations, handmade posters, and a post-meet presentation of the gifts to honor the graduating class of 2019 and their contributions to the aquatics program. The spirit for the senior meet was to wear practice suits over appropriate academic dress.
After the events, the team moms prepared a short ceremony complete with Hawaiian leis, snacks, pizza, and a short heartfelt speech about each of the seniors from the coaches. Traditionally, Webb has celebrated the seniors at Prep League Finals, but since switching into the San Joaquin League this year, the team has begun to form new traditions.
Coach Rosenfeld's strategy for the last home meet of the season was to stack the Varsity A Team relays to increase the chances of achieving strong CIF consideration or auto cuts.
He said, "The spirit that came with the senior meet really made this one different. The fact that we hit best times in a third of our races, which at this point in the season shouldn't be happening, is a testament to the spirit and excitement that our team has. Not just for the seniors, but also for each other."
Co-captain Laura Haushalter ('21) spearheaded a poster-making session for the non-seniors on the team on Monday, March 25th.
Laura said, "It's going to be really sad without the seniors because they've always been in our lanes, encouraging us, and pushing us to swim faster. Also, they do a great job of helping out the younger swimmers during meets, so there's gonna be a hole without them next year."
Lindsay Jung ('19), a four-year varsity VWS swimmer and record-breaker, said, "For me, swim has been a wild ride. I'm thankful for my amazing coaches who continue to push me to be my best. I wouldn't have gotten my season best times at my senior meet without their constant cheering, milkshake deals, or continuous support."
Nathan Paik ('19), a four-year varsity WSC swimmer, said, "As a senior, time has flown by these past years. I'm gonna miss the pool and competing with my friends. Season was great and I'm looking forward to working hard for League Finals and CIFs!"
The class of 2019 will definitely leave their legacy on the evolving swim program. This historic season looks like it is going to be one for the record books. In regular league meets, athletes have already broken the VWS 200 medley relay and the WSC 200 individual medley school records.
As of March 28th, VWS swim & dive is undefeated both in league and non-league meets. After swimmers and divers return from spring break, the real competition will heat up with league prelims, finals, and CIF all on the horizons.
About the Contributors
Sydney Wuu, Editor-in-Chief
Imagine being Editor-in-Chief for the Webb Canyon Chronicle, VWS all-school president, co-captain of the varsity tennis and water polo teams, and a big-time...
Emma Lin, Editor of Culture & Lifestyle
Emma Lin ('20) will be entering her senior year at Webb. Embracing her new role as the Editor of Culture & Lifestyle for the Webb Canyon Chronicle,...