Wildflowers head to California for a super bloom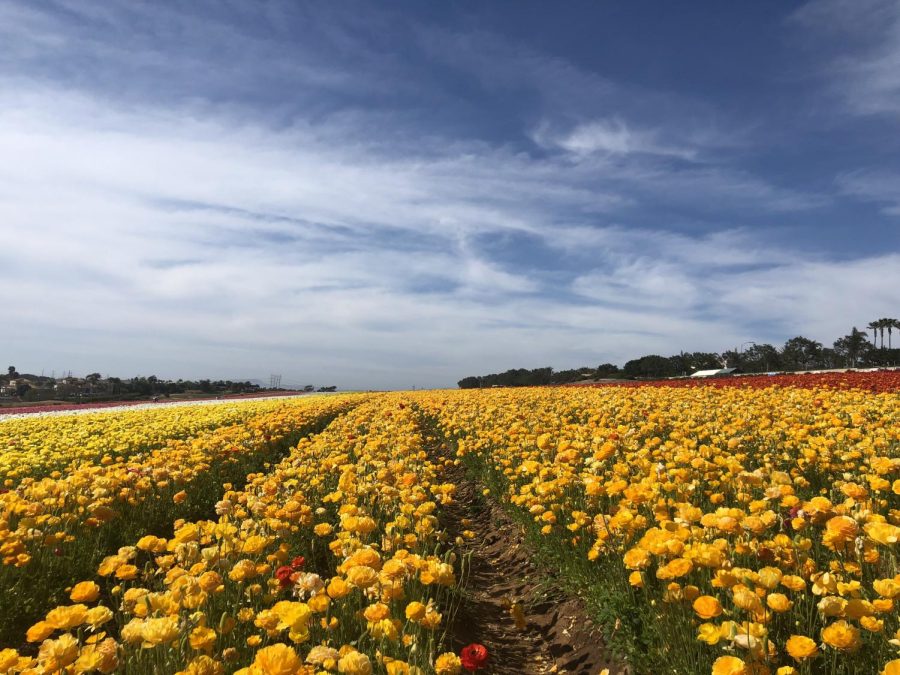 Due to significant rainfall over the past couple months, fields and national parks are experiencing a wildflower super bloom. A super bloom occurs when vast amounts of desert flowers blossom at the same time. This year's happening came after heavy rainfall during the winter. The rainy period was followed by warm, sunny conditions at the start of spring.
Ally Casillas ('19) said, "the super bloom is something you could only get to see once in a lifetime and it's so important to appreciate it while the earth still has the ability to produce such a wonder."
Some desert flowers stay dormant for many years until the right weather conditions come along. These wildflower blooms tend to happen once a decade, but California has now had two in the past three years. One significant location, Walker Canyon in Lake Elsinore, temporarily closed after being forced ban tourists from visiting the poppy super bloom for safety, traffic jams, and protection of flowers.
Lake Elsinore is a town of 66,000 people. In one weekend, Walker Canyon saw over 50,000 tourists. Overwhelmed, city officials restricted access to the canyon for 2 days. Officials soon realized it wasn't possible to keep the all of the visitors away. A super bloom occurred in 2017 as well, but a city official described this year's as the largest Lake Elsinore has seen in 30 years.
Over the weekend, residents of Lake Elsinore were faced with up to three hours of traffic on their commutes.The city is was preparing to reopen the trailhead entrance by providing alternative ways to reduce the impact that the tourism has had on the community.
Unfortunately, as of April 6th, the poppies in Lake Elsinore are gone. It appears as though the super bloom is coming to an end. The poppies petals are beginning drop their petals and the  plants are beginning to wither.
However, do not worry. If you want to see the super bloom, there is still time. There are several other super bloom locations across Southern California. Locations include: Carlsbad Flower Fields, Antelope Valley California Poppy Reserve, Anza-Borrego Desert State Park, Chino Hills State Park, Malibu Creek State Park, Joshua Tree National Park, and more.
Even though the Carlsbad Flower Fields is technically a garden, the flowers are in bloom every year from March through May. The gardens have over a mile long of bright, multi-colored flowers. Admission to the field is $18. The field also offers wagon rides, flower mazes, and snacks including: popcorn, ice cream, and lemonade.
About the Contributor
Emily Stepanian, Staff Writer
Emily Stepanian ('19) is a first-year staff writer for the Webb Canyon Chronicle. She was born and raised in California but oddly, prefers the winter...