Students rock the Block… Party
Students of all grade levels crowded around the road located just past the pool as the second annual Block Party kicked off the second weekend for Webb students on campus. Staggered clumps of students wandering through the Jameson Archway and down Appleby Lawn to be faced with enthusiastic cheering from video game stations or popping purple butterflies on girls' cheeks. 
As the sun set, the Block Party erupted, offering a variety of events including: laser tag, Mario Kart, and face painting. A selection of snacks, including popcorn and free Ding Tea, were available to all students who made an appearance.
The Jameson dorm prefects, alongside Ken Rosenfeld, Dean of Campus Life, organized a lively event for students to look forward to at the start of each school year. Taking place at the "Terrific Triangle," students were met with the refreshing taste of boba and a plethora of activities that helped them de-stress after the first full week of classes.
Cindy Nie ('23) said, "I feel like it's a good time for everyone to just chill from a long week of school…there's a lot of fun activities and boba."
The free servings of Ding Tea seemed to fly off the tables and into grateful students' hands. The line for boba stretched all the way from Jones Dorm to Appleby Dorm as students were eager for a refreshing cup after a long, hot day. 
Ava Sinha ('20), a South Hutch dorm prefect, said that the boba as a nice incentive for students to come to the party and that it was "pretty cool." While the free beverage appeared to be one of the deciding factors for those students debating whether or not to come, it was hardly the only attention-grabbing activity unfolding.  
Laser tag ran full-force at Jameson Beach, where propped-up tents were scattered to offer protection from opposing players. This activity was another big hit, it allowed students who may have previously been strangers to bond over a common goal: victory against the other team. 
Students battled for a similar victory in riveting video game tournaments. Attendees could compete with each other in the popular Wii games, Mario Kart and Super Smash Bros. 
Nathan Lara ('22) said, "Mario Kart is very fun and somewhat competitive, but it has low stakes. [Students] can laugh about it together because it doesn't matter who wins and who loses."
The face painting stand, which was a new addition to the Block Party, drew a lot of attention. Friends would sit down together and within a few minutes, they would stand up with wild and colorful designs adorning their faces.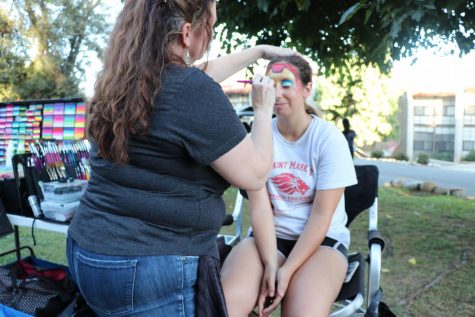 Because this Block Party is only the second to occur at Webb, this year's party had some notable improvements from last year's event. The 2019 Block Party was more focused on fun games and activities compared to last year. The activities noted from this year replaced those of last year, including a movie on Alamo Lawn, Kona Ice truck, and milkshakes.
Rick Duque, WSC Dean of Students, said, "There's music, there's food, there's videogames, there's popcorn, there's about to be laser tag… I think that it's nice that not everything has to be like a giant show; it can just be very casual and music playing and people can just come and hang out."
Overall, the great music, food, games, free boba, face painting, and even some faculty kids playing video games with upperclassmen made this year's Block Party a night to remember, acting as an exceptional model for back-to-school events to come.