Should Freshman Seminar be co-ed?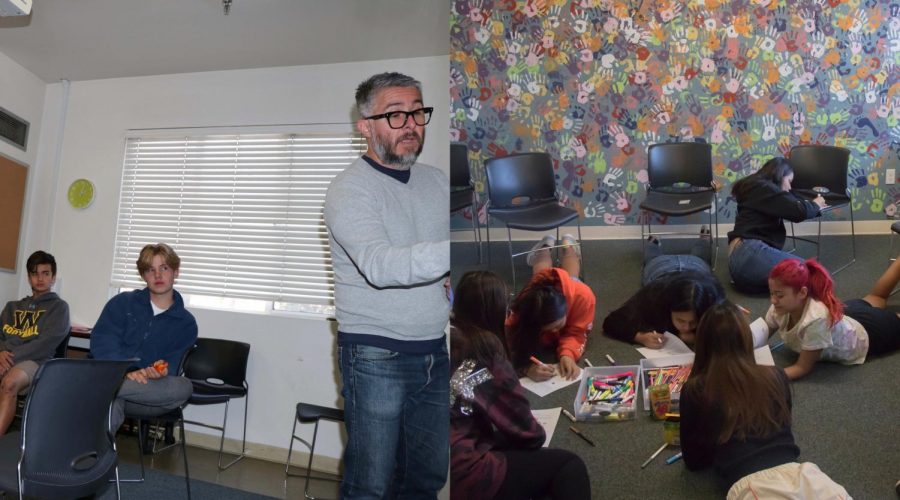 The Wellness section of Freshman Seminar is often considered a harshly realistic and relatable class, as it allows for freshmen to delve into the horrors of high school. From navigating the social scene to first crushes to puberty, the class seems to take on these issues loosely and comically as if they were all characters in Big Mouth. But the class also manages to remain strict and structured; the lessons that are taught in that classroom are carved into our brains. 
Freshman Seminar's open and inclusive space has allowed for students to talk about their lives and improve their emotional and mental health using the new tools they learn. It has worked excellently so far, but there is always room for improvement. 
Webb's unique environment of two schools on one campus allows for a diverse and highly beneficial boarding experience. VWS and WSC being two separate schools ensure that all students feel comfortable and are able to thrive in their educational journey without "distractions." 
The single-gender ideology appears to be detrimental to Webb's Freshman Wellness class as it focuses on more sociological aspects. This teaching style severely limits what students can learn and makes it harder for VWS and WSC classes to integrate.
A co-ed Freshman Wellness class would benefit students and the Webb community as a whole. It would improve communication skills, so that students could learn the different ways that genders express themselves and overall become more prepared to excel in the workforce. Allowing for the VWS and WSC freshmen students to get to know each other in Wellness class will give them those skills and allow them to better integrate the two schools.
Andrew Wang ('23) said, "I do not know many of the girls in my class, and the possibility of a co-ed [Wellness] class could allow for me to."
But opponents to this possible shift believe that changing the class would be counter-productive, as it may distract freshmen or make them uncomfortable. 
Nathan Choi ('22) said, "Freshman Wellness being co-ed would be so wack. This may cause half of the students in a co-ed Wellness class to panic and the other to not stop talking." 
Daniel Rios, a health counselor, said, "I would be open to it, but I do see some value in not being co-ed. I think at this age level sharing more of yourself with members of the opposite sex may be difficult. But I am still open to making [Wellness] shape and reflect the needs of the students."
The difficulty of sharing intimate secrets with members of the opposite gender could be approached in the same way Webb approaches community dinner. Perhaps during the fall season or even the full first semester, it could be a single-gender class and the second semester could be co-ed. This transition would hopefully ease freshmen into being more comfortable with a co-ed Wellness class.
But through this discord and discomfort, students gain priceless lessons; not everything in the real world will be set out perfectly for them. This reality is why students must learn how to be emotionally vulnerable with people who are different from them.
Logan Causley ('22) said, "Wellness should be co-ed. Talking with the opposite gender will allow for a meaningful conversation because people will be more likely to think through what they are saying and respect everyone. It will also be easier to, instead of asking the teachers questions, ask your peers who may be more knowledgeable in some instances. It is going to be uncomfortable, and it may even end up being really funny. But life is uncomfortable and there is nothing you can do to change that." 
Co-ed Wellness classes would be a big change for Webb that would take a lot of adjustments. This possible shift would be very beneficial for incoming freshmen, but would also pose unique challenges. Since Webb is two schools on one campus, a co-ed Wellness class could help cross the barrier and integrate the classes more while still allowing the schools to remain as two separate entities. Single-gender Freshman Wellness is an outdated practice, and as we enter the 2020s, Webb administration should work on propelling the school into an innovative future.  
About the Contributor
Janina Akporavbare, Staff Writer
Janina Akporavbare ('22) loves to write, so her choice to join the Webb Canyon Chronicle as a staff writer is a perfect choice. During her leisure time,...