Anjali Desai ('21) launches ZigZag the Brand during the pandemic
With the rise of the global pandemic affecting how we live our everyday lives, it is important to support local businesses to help them survive the daunting times. There are many local small businesses to support right here in Claremont, including ZigZag the Brand created by VWS senior, Anjali Desai ('21). 
The pandemic gave Anjali plenty of extra time to pursue her interest in fashion, and, ultimately, to create her own brand.  
"I have always known that I wanted to go into the fashion industry," said Anjali. "But I was always tied between design and marketing/buying. During quarantine, I began sewing more and decided I wanted to sell my designs." 
From a young age, Anjali began to develop skills and interests, like sketching and sewing, that have now become essential to creating her brand.  
Because Anjali designs and produces all the products single-handedly, the process can be strenuous and time-consuming, so her production plan varies based on design. 
"Products that require sewing can take up to 2-3 hours each minus designing it, whereas rhinestoning a batch of shirts takes 1 hour," she says. "One of my favorite products that I sell is 'The Manek Skirt,' because I designed and made that skirt for one of my best friend's birthdays. I loved it so much that I designed a whole collection after it, the 'stargurl' summer collection."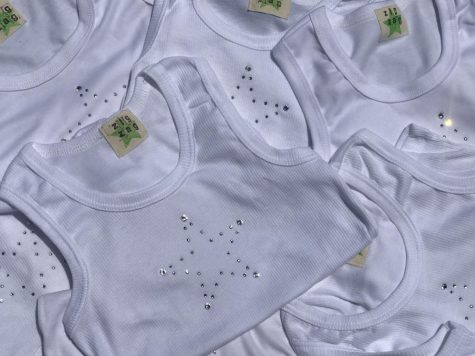 Anjali launched her brand on August 22nd, 2020, sharing her designs on a website and Instagram. With her platforms all online, Anjali had the opportunity to sell her products worldwide and contact–free. She makes sure to be as safe and clean as possible when handling and producing her products by sanitizing her workspace and materials. 
"Since my brand is completely online, it made it easier since I don't have to be in contact with anyone to sell my items," said Anjali. 
Not only did Anjali create the products, Instagram photos, animations, website, and logo, but she also markets her brand through many social media platforms by herself. In doing so, she forms a closer connection to her consumers and can receive feedback more easily.  
"My main marketing strategy I do is [keeping] my brand's Instagram active by having Q&As on my stories as well as giveaways," said Anjali. "Another way is email subscriptions. I usually email my subscribers about upcoming launches and sales. I also market my brand through other apps like Pinterest and TikTok." 
Anjali also strives to create a strong foundation of values that her brand promotes. 
"When planning at my brand's values, I knew I wanted to have a brand that was not only sustainable but also size inclusive. My brand is zero waste, meaning all scraps whether it is fabric or thread is never thrown away." 
Anjali makes sure to solely use materials that are ethically sourced, and she makes sure to use every bit of material that she can. Fabric or threads that she has no use for are donated to companies who will recycle and reuse them. 
"Planning my brand's future is something that has been on my mind for a while," Anjali said. "Since it is still unknown where I will be in a year, it is hard to predict where my brand will go. But I will definitely continue producing items in the future." 
Now that Webb classes are back in session, ZigZag's creator has much more on her plate. 
"Since we have been back in school, it has been difficult to have time to work on my brand while also having homework and college applications," said Anjali. 
Her brand is a great example of how small businesses strive to uphold their values and connect to their consumers. Anjali is motivated by her consumers and genuinely cares about the product she creates. Supporting her business and others like it is one way we can uphold our community in tough times.
Leave a Comment