Shanghai controls recent rise of local cases approaching Lunar New Year
Since the first identified case of COVID-19 in December 2019, China has come a long way from having the highest case numbers in the world to flattening the curve in even the densest cities. As the largest and one of the most populous city in China, Shanghai's fight against COVID has not been easy.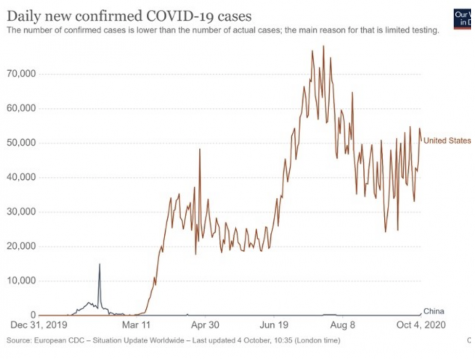 Following Wuhan's city-wide lockdown on January 23rd, 2020, Shanghai implemented traveling restrictions on January 25th to those entering the city. Although the city was never officially locked-down, February and March of 2020 were the months of self-imposed quarantine by most aware citizens. On May 11th, 2020, Shanghai Disneyland reopened with mask restrictions and temperature checks; soon after, the entire city followed in their footsteps and adapted to the "new normal."  
As we approach Chinese New Year, the Chinese government has tightened pandemic regulations against the millions of people that are expected to travel for the holiday. On Thursday, January 21st, 2020, Shanghai found six local confirmed COVID-19 cases in its downtown Huangpu district.  
This incident was the first time in two months that local cases have been reported in Shanghai, possibly foreshadowing a wave of cases to come during "chun-yun", which is the rush of traveling during Chinese New Year. The Chinese government is requiring those moving to different cities to provide negative COVID-19 test results and to also quarantine in their respective homes. Despite these regulations, Chinese officials are encouraging more people to remain where they are for Chinese New Year rather than commuting to their home cities on crowded public transport.   
A Beijing native, Eugene Guo ('22) resides in Shanghai and has decided to remain there for the holiday, hoping to help prevent another outbreak. 
"I usually go back home to Beijing for Chinese New Year but not this year because of the coronavirus pandemic," Eugene said. 
Currently, two areas in Shanghai have been marked as "COVID-19 medium risk areas": Baoshan and Huangpu. A system launched by the Chinese Government on February 17th, 2020 called the "On Demand Code" tracks all registered citizens via their sim-cards. Any person who passes through medium risk areas might have their code switched to yellow or red (green being low risk) and restricted from entering certain indoor spaces or travelling to different cities. This procedure helps prevent asymptomatic carriers from spreading the virus.  
"Everyone is aware of the current outbreak in Shanghai," Karen Chen ('23) said, "I've noticed that there are a lot less people in public, and that the people who are out and about are definitely wearing a mask. Indoor spaces like supermarkets and malls now require a temperature screening and health code, which I think is really effective for the safety of the citizens." 
Overall, with modern technology and mask-wearing citizens, Chinese officials are confident that they can control the spread of COVID-19 in Shanghai. As we enter the February holiday season, it is important to remember social-distancing guidelines while enjoying the festivities. Happy Chinese New Year from the Webb Canyon Chronicle!  
Leave a Comment
About the Contributor
Nancy Lin, Copy Editor
Nancy Lin ('23) is the current Copy Editor at the Webb Canyon Chronicle, with a strong interest in a variety of media. While she was born in Shanghai,...