Webb's cross-country teams battle in CIF
Webb's fall sport season has come to an end, but Webb's cross-country teams are still battling to compete for a top spot in California Interscholastic Federation (CIF). For over ten years consecutively, Webb's cross-country teams have qualified for CIF; despite this, some players remained unsure whether they would make it this year due to the COVID complications.
"We weren't certain about the team and we doubted the speed of our team," Etienne Griffon ('23) said.
Yet, on November 4th, Webb's cross-country teams competed in the San Joaquin League finals.
Webb's WSC varsity team placed first while VWS's varsity team placed fourth in the race. Three WSC athletes placed in the top ten at the league finals in Mason Park, while one VWS athlete placed in the top 20.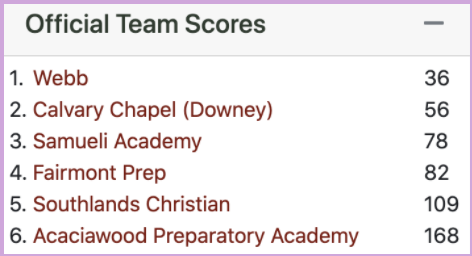 "I'm thrilled that we won league finals," Garret Cordova-Caddes ('23) said. "Coming back from the summer, all I knew about the team was that we had one last member of the amazing team from my freshman year, and two juniors that were good."
As winter season sports overlap with the cross-country schedule, some athletes on the team are also making the difficult decision to advance to their winter sports. This ultimately hinders the team's ability to advance to the finals.
Before making it to the CIF finals, both teams must make it past both preliminaries and semifinals, which is an extremely difficult task to accomplish. While preparing for the preliminaries, the team is working on staying healthy and safe in order to have a qualifying time.
"The journey has been long and hard but rewarding," Etienne said. I feel like the whole team has put in a lot of effort and it has shown."
"Unfortunately, that is likely as far as we will go because we are anticipating injuries after prelims and a number of our runners will be out of town for finals," Garret said.
Nicholas Theobald ('22) and other athletes have been sacrificing participating in previous meets to stay healthy and qualify for prelims.
Even though making it past semifinals is extremely difficult to do, due to injuries, preparation, and overlapping seasons, the teams are confident in their abilities to perform well.
"The journey has been very tough. The training consisted of a lot of hill running workouts, sprinting workouts, and overall, just a lot of miles," Taren Duffy ('22) said. "There is a lot of times I dread having to go to practice but in the end, I'm always happy I did it."
Despite how well the teams do in CIF, the athletes are still extremely pleased with what they have gotten out of cross country so far.
"XC is a way to get away from campus and homework," Ettiene said. "It has helped me improve my physical health along with my mental health. I wouldn't call it relaxing; however, it is very comforting and inspiring."
The WSC cross country team will be competing in the championship finals on November 20th.
Leave a Comment
About the Contributor
Bryan Oglesby, Chief Editor of Sports
Bryan Oglesby ('23) has made himself known in the world of Webb athletics by being both the captain of the varsity football team and track & field...