After months of mystery, plastic tarps and fences have finally unveiled an amphitheater in a new place called Mcmillin Park. However, Webbies have many questions about what Jay Pang ('25) says looks like "something you would find in an ancient pyramid."  
Before the construction, the area was a damp, jungular tract of dirt, covered with withered leaves and patches of plants. Its central location and natural environment gave it potential as a place to hang out, hold meetings, or relax.  
"The idea of McMillin Park came from a desire to have a nice outdoor space where we can gather as a community," said Taylor Stockdale, Head of Schools. "I always felt like we could have events such as Convocation under the trees where there is shade." 
However, some students are skeptical about whether the amphitheater can hold enough people. 
"I feel like there's a lack of stone and sitting areas," Jay said. "Unless you count the ground as a sitting area which we could just do in Chandler Field." 
Mr. Stockdale has also considered this dilemma. "We can only fit around three people on each rock, so when I first saw it, I was concerned about whether we could even fit people there for large events," he said. 
Despite these concerns, the landscape designers have reassured project managers, including Mr. Stockdale, that there is enough space for large events. Other than sitting on the rocks placed in the clearing, there are many other places to sit, such as the stairs, road, or on the ground, which is covered in mulch that is cool and dry, but not hard.  
The park is also a tribute for one of Webb's greatest teachers. Affixed to the stone wall is a mural depicting Larry Macmillin, whom the park was named after, and the stone hut where he used to teach his course, Individual Humanities. 
"He was sort of like the Abraham Lincoln of Webb," said Michael Kozden, the Chair of the World Languages Department. 
As a scholar from Princeton, McMillin was incredibly well-spoken as his energy infected those around him, students and faculty. Many remember his love for Einstein quotes. His favorite, regarding educators' development of independent thought and generosity, is immortalized on the mural. Webb students adored the Individual Humanities class he taught in the stone hut.  
The stone hut was an integral part of Webb for a long time. Since it was converted from a smoking lounge to a classroom, students and faculty made lifelong memories there. 
In 1991, an earthquake struck Webb and cracks ran up the decades-old building, threatening its structural integrity. After county inspectors deemed it too dangerous to use, the stone hut was demolished. 
The Class of 1967 and the administration believed Mr. McMilliin's teachings and wisdom must not be forgotten. 
"We really wanted to honor Mr. McMillin and the stone hut," said Janet Peddy, Director of Finance. "I hope the alums can come back decades later and feel a sense of nostalgia for the man who shaped them." 
The amphitheater's design process took several years. 
 "So much was carried in people's hearts," said Mrs. Peddy. "Their memories are hard to embody, so it went through many iterations. Because of that, it took longer than most other constructions."  
Due to safety concerns, the initial plan to rebuild the stone hut failed, prompting artist Steven Farley to employ a creative approach that would both honor Mr. McMillin and complement the school and environment. The mosaic artwork depicts Mr. McMillin, the stone hut, and the Einstein quotations.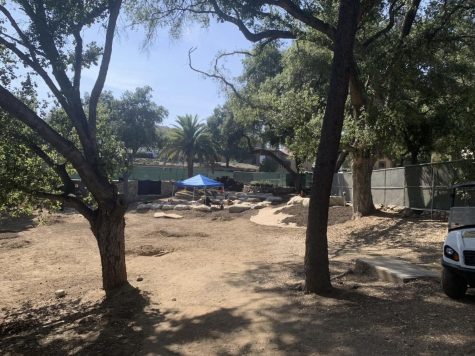 The school chose to complete the disruptive parts of the construction process, such as road contouring, during the summer when students were off campus to avoid affecting the students' experience on campus. 
In addition, an impressive array of technology is hidden underground. Students can connect to four speakers via bluetooth or an audio system behind the stone wall. There is also a microphone built into the stage that allows for performances and large events to take place.  
To achieve an organic feel, the designers camouflaged two of the four speakers underground. Unlike most other theatres, Mcmillin Park does not have any lights or screens. 
"We deliberately didn't put any screens down there," said Mrs. Peddy, Director of Finance. "We wanted it to be rich in technology but not overpowering." 
Many students and faculty have already begun using this new space. Faculty members have sunbathed on the rocks, and students are using it as a place to enjoy lunch and play music.  
"It's a great place to sit and have a nice conversation," Jim Dahler, Mathematics Department Faculty said. "I can see it being used for club meetings, classes, and maybe even theater." 
Some students also use it as a place to get away from noise and clamor. 
"I have been there like a million times," said Nicole Lee (25'). "I just sit there while eating beef jerky and hi-chews that I bought at Trader Joes. It's a great place to eat without judgement." 
Now that the park is completed, it serves as a reminder of the Class of 1967's love for Mr. McMillin, but also symbolizes hope for the future. Despite students' concerns about the usefulness and aesthetic of the park, the operation team has gifted Webb a place of community that embraces nature and promotes solidarity. 
 "I want you guys to enjoy it, to have another place to be together," said Mrs. Peddy.