Life's a beach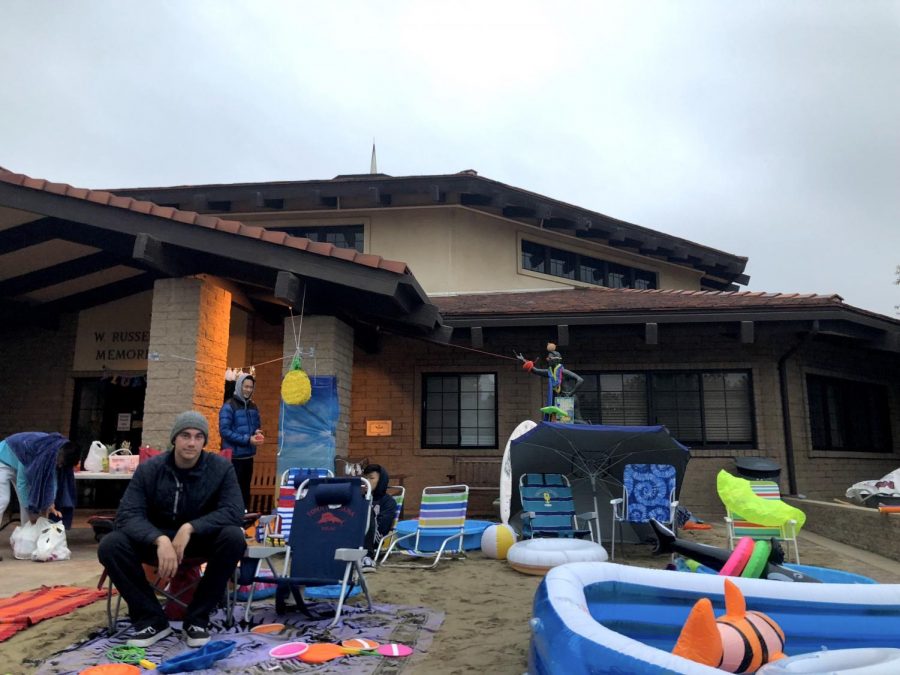 On Thursday, May 24, Webb's Fawcett Library, a haven filled with books and resources, became a beach with colorful towels and fun floaties. As a last hurrah, the Class of 2018 got to spend their last full day of high school at their very own "Luau Party."
At 11:30 P.M. the night before, the seniors gathered outside the library and starting putting together the senior prank. About four thousand pounds of sand were brought to Webb, as well as beach chairs, beach balls, and kiddie pools filled with water. Finally, at 1:30 A.M., the ground in front of the library transformed into a beach.
Later that morning, a few seniors gathered up at the gym in blankets and sweatshirts, ready to see the sun rise. Much to their dismay, the sky was cloudy and there was no clear view of daybreak. Even so, the seniors still enjoyed their last day on campus.
When students started piling into the school, pictures and videos of the "beach" spammed social media, appearing on a bunch of Snapchat and Instagram stories. Seniors dressed in beachwear jammed out to music booming from the senior spot.
During lunch, the seniors brought out a grill and ate burgers and hot dogs. Sam Scudder ('18) slid down different flights of stairs on a surfboard and watched as Matt Brailsford ('18) splashed around in the kiddie pools. "What I think was so special about our prank, in comparison to previous pranks, was that it was something that our class could actually enjoy," said Elena Monroe ('18).
The seniors were very responsible with the aftermath of the prank. Brailsford said, "All we ended up doing was prank ourselves," since they had to clean up the sand. Even so, Mr. Ben Farrell, Dean of WSC, as well as many adults on campus were pleased with the way the seniors shoveled up the sand into bags and cleaned up the ground.
As the seniors reach the finish line, they leave behind a legacy that showcases the values they have learned at Webb. Throughout their four years, they have learned to have fun and see the glass half full, but have also understood the importance of honor, trust, and community. We all look forward to the great things they will accomplish in college and in life!
About the Contributor
Summer Chen, Editor-in-Chief
A bonafide Libra, Summer Chen ('20), the Editor-in-Chief of Webb Canyon Chronicle, believes herself to be emotional, caring, and guided by her intuitions....