Alumni return to answer student's questions about college athletics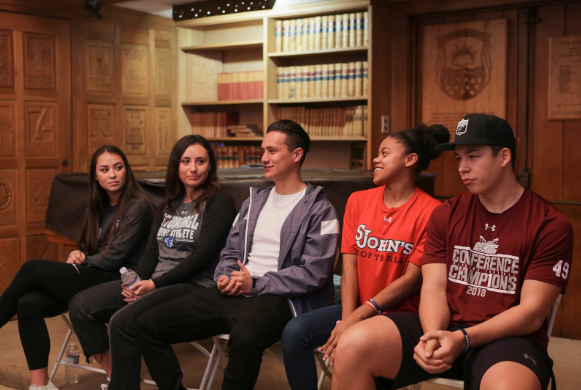 On Wednesday, January 9th, five Webb alumni returned to Jackson Library to share their perspectives of being student-athletes in college. The meeting began following A block at lunch (11:50 a.m.); Webb students gathered around the table and listened as Laura Wensley, Senior Director of Development & Alumni Relations, asked the alumni student-submitted questions about the collegiate athletics experience.
Daniel Crisostomo ('15) shared about his time at UC Irvine as a soccer player, Hailey Arteaga ('16) and Elyse Morris ('17) spoke on what it is like being a Division I softball player from their perspectives at Seton Hall and Saint John's University respectively. Recent Webb graduate Ryan Place ('18) shared his freshman season on the University of Redlands football team, and Dylan Wensley ('17) answered questions regarding her time playing soccer at Occidental College.
At Webb, all students are required to play at least one sport during each year. As a result, a growing number of Webb students are training to become college athletes. Due to the many student-athletes with ambitious college plans, playing sports after high school is something that a lot of Webb students consider.
Playing sports in college is not as easy as trying out and practicing a few hours each day like what takes place at Webb. This contrast is why having Webb alumni who have participated in both the Webb and college sports scene offers such a valuable perspective. Some of the frequently asked questions included managing school work, games, and practices, as well as the recruitment process and how to prepare for the college season. The athletes explained the importance of time management and the limited amounts of free time they have.
In regards to recruitment, Daniel Crisostomo ('15) explained the importance of being respectful to all coaches and scouts who take the time to watch you play. To prepare for the college season, Ryan Place ('18) recommended students lifting weights in high school so they can be prepared for college training.
About the Contributor
Sam Annunziato, Editor of Sports
If you can't find Sam Annunziato ('19) up at the Webb gym playing basketball, you might find him out on the ice playing hockey in Ontario. Sam has been...