Meet the International Student Program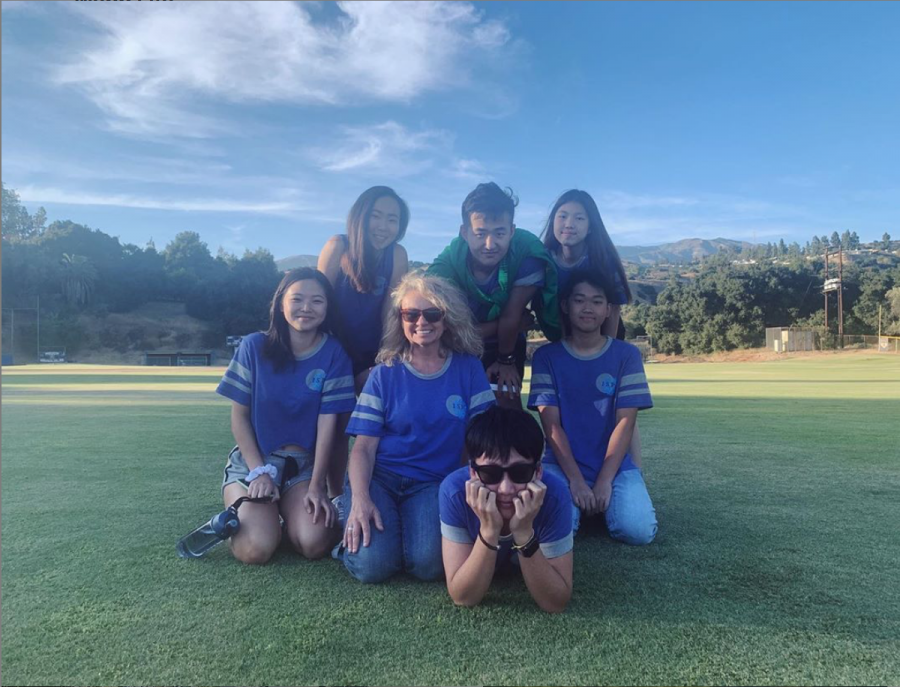 Leadership is a vital part of the beloved Webb community, but one group always seems to be overlooked: the International Student Program (ISP). Every year, Romana Quick, the International Support Program Coordinator, sets out to help new students adjust and bring new cultures to Webb with her group, the International Student Liaisons (ISL). However, they are often forgotten behind larger leadership groups like prefects and student government.  
According to Ken Rosenfeld, Dean of Campus Life, he and Elizabeth "Betsy" Potash, a former Webb faculty member, started the ISP back in 2010. Its purpose is to create a bridge between international students and the rest of the Webb community. Mrs. Quick joined the program in the second year following Mrs. Potash's departure and introduced new resources like WeChat and email so parents and students can ask questions all summer long and be confident upon their arrival to campus. 
Every year, over 50 student leaders come to campus before the school year begins to prep for sports, set up the dorms, update the student handbook, and organize Theme Nights. Meanwhile, International Student Liaisons are emailing and WeChat messaging with parents and students to make sure that they adjust to life at Webb smoothly. 
Around mid-June, international student liaisons send emails to new students to introduce themselves and give a brief introduction to Webb. Karen Chen ('23), a new international student from Shanghai, China, appreciated her email from ISP Alice Hou ('20). 
Karen said, "It was really helpful because she introduced herself so I would know someone on campus. She gave me a brief introduction about the school and that was helpful as well."
ISP also helps to bring American and international cultural events to the Webb community. Starting with the mid-autumn festival in September, ISP delivered festive snacks to Crossroads where students indulged themselves in boba and mooncakes. 
At the dorm prefects' annual Haunted House held in October, ISLs pass out apple slices coated in thick caramel. During the holiday season, the ISP works with the day student prefects to host holiday cookie decorating. 
In conjunction with the Chinese Club, in the beginning of the second semester the ISP hosts events all week long for Lunar New Year. Partnered with the Alamo dorm, ISL also helps organize Webb's esteemed end of year music festival Jubilee. 
The International Student Program is not the main facilitator of all these events, rather a leadership group that contributes to them. This leads to the common misconception that ISP does not do a lot at Webb.
Mr. Rosenfeld said, "It's really important that for some students, it's their first ever experience even in the US. Therefore it's very important to help them get used to the culture and welcome them into our community."
International student liaisons also help new students adjust to life at Webb by talking to them about when they were new. Laura Li ('22), a new ISL this year, said "I joined ISP because I am an international student myself and I feel like it really helps the new students to have someone that can relate to their experiences or can sympathize with how they are feeling for example if they are homesick, or they're not really finding their place yet … It's like you have a support team." 
Being able to come to Webb for the first time and have the ISP waiting for you is one of the great things about this school, and is something that brings together the community. The ISLs' dedication to the introduction of culture in the Webb community can be seen in every corner of the campus, and they always look forward to hosting the next successful event.
About the Contributors
Stephen Li, Editor of Photography
Stephen Li ('21), a boarding student from Beijing, is Editor of Photography, which is a new position at the Webb Canyon Chronicle. He loves football,...
Nichola Monroe, Staff Writer
A citizen of the United States and Switzerland, Nichola Monroe ('22) is a global traveler, activist, and leader. She is joining the staff of the Webb...