Netflix's The Politician works best as anti-capitalist propaganda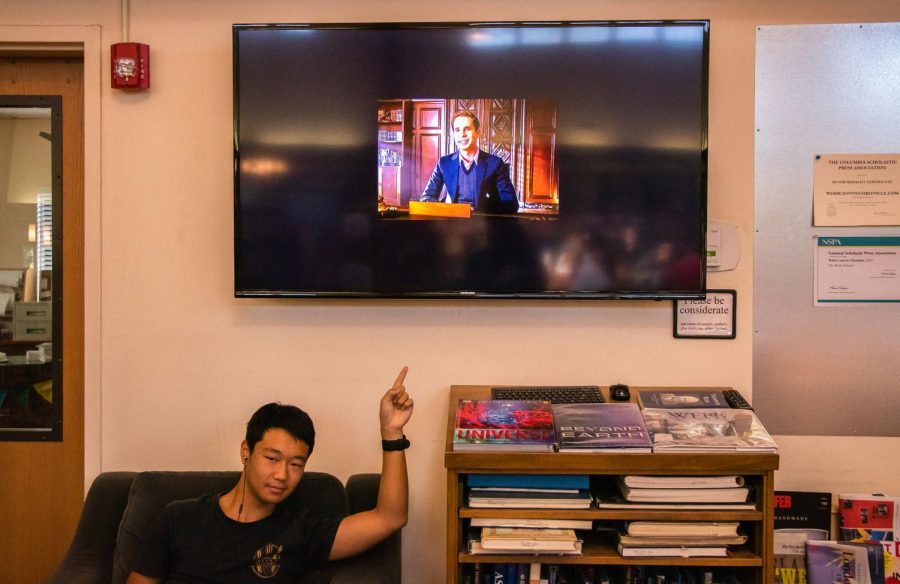 While many of my classmates were revelling in their temporary freedom during October break – probably skipping through fields of daisies and drinking strawberry milkshakes while petting puppies or something – I spent a lot of time at home. 
It all started with a minor calf tear I sustained representing the mighty Gauls in a water polo game on the Wednesday before break. The urgent care doctor suggested I stay off the leg for a few days, which to my mother meant I shouldn't leave my bed. 
Then, at my first opportunity to spend time with friends, I missed curfew, meaning I was grounded again, and phoneless. All of this is to say, I had a lot of time on my hands, time that I would use to finally win the seventeen-year battle against my sanity.
Some people do homework, some people work out, others write poetry. But I prefer to use my free time as God, Darwin, and the algorithm intended: to get angry at television shows. At the recommendation of this Jacobin article, I decided to venture into the realm of B-tier Netflix originals, in the hopes of uncovering a hidden gem. I was not disappointed.
I do not intend to offer a full summary of this roughly eight-hour show, there are a lot of plotlines that are frankly boring and pointless. Basically, The Politician is about two teenage sociopaths in possession of obscene wealth, squabbling over who gets to rule their Santa Barbara high school. It is an exhaustingly obvious allegory for American politics–think "Animal Farm" but they don't even pretend to make it about adorable barnyard antics. The show is not good. 
The main character, Payton Hobart, is your middle school friend's idea of what a Webb student is like. You know: rich, entitled, ambitious, snobby – not at all like the perfectly well-adjusted Webbies we all know and love. I still cannot tell if the viewer is supposed to like him. 
His maniacal pursuit of power is quite horrifying and he never really demonstrates any redeeming qualities other than loving his parents (They must have never made him set up Halloween decorations during his well-earned break). I guess the show proves that he's not a bad person by making him actively oppose the murder of his father by his slightly more evil twin brothers (who use the word "patricide" more than three times in five minutes). Thanks Payton! 
The show's plot is set into motion when Payton's sole opposition in the campaign for student body president, River Barkley, commits suicide. River is probably supposed to represent goodness and purity, but he just comes off as an insufferable white Buddhist who makes Payton do breathing exercises. No thanks.
Anyway, you would think River's suicide would be dwelled on for more than say, ten minutes, but it basically serves as a reason for his really mean girlfriend, Astrid, to enter the race, which is what the rest of the season is about. Boring. 
Key events along the way include:
Payton gets waitlisted at Harvard.

Payton is offered the chance to buy his way into Harvard because, if this was not already clear, he's rich. He refuses because he's worried that agreeing will harm his future presidential campaign. 

Payton gets into Harvard anyway. Fairness?

Payton's running mate has cancer. 

The cancer is fake. Don't ask.

Astrid runs away to New York with Cancer Girl's mentally challenged boyfriend because she wants to become a "Woman of the People." Also, she's bored and she has sex with him.

Payton's mom cheats on his dad with a stablehand. Dad jumps out of a window and enters a coma. Payton's twin brothers try to kill him to take control of his fortune somehow. Whatever, doesn't matter.
The show's creators seem to be trying so incredibly hard to make their obscenely rich characters unlikeable that The Politician can only be described as heavy-handed anti-capitalist propaganda. 
Only in a dystopian hellworld devoid of any semblance of justice or fairness could someone like the odious Gwyneth Paltrow rise to the level of affluence that enables her mentally deranged son to raise tens of thousands of dollars for his student government campaign, or her affair with her vaguely foreign stable attendant. Clearly these people do not know what to do with their money, and it makes them bad people. Someone should take it away from them.
I did not finish the show, and neither should you. I am sure that there are many other fascinating plotlines to explore, and I may never know how the big musical turns out. Don't know, don't care. But if you are ever contemplating your radicalization, and wondering if forty minutes could push you over the edge into class struggle, put on an episode or two. You have nothing to lose but your chains.
About the Contributor
Patrick Dóñez, Co-Editor of Opinion
Patrick Dóñez ('21) is serving as Co-Editor of Opinion on the Webb Canyon Chronicle. Patrick joined journalism last year and enjoys writing about politics...