Webb triathlon holds first intramural competition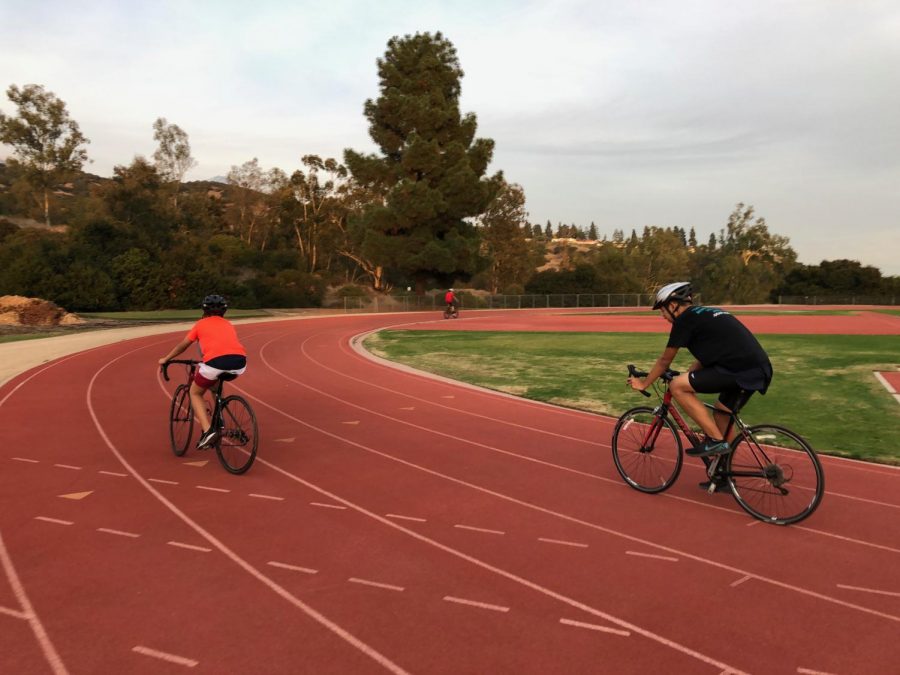 As we head into December, we may notice that the California sun sets earlier and the temperature cools down. Although one might think the changing weather will affect Webb's outdoor winter sports, Webb triathlon pushed through and hosted their own first mini-competition of the season on December 5th. 
Throughout the past few weeks, Webb triathlon alternated between running, swimming, and biking practices. Unlike the past few years, there have been mini-competitions between the members on the team, allowing the afternoon activity to become more than just a place where people train. Triathletes earn points each day for workouts completed and also for winning the weekly competition.
Brian Caldwell, head coach of the triathlon team, said, "One of the goals of the point system is to build in some competition. That was an issue in years before because we didn't have enough racing going on since there are no high schools to compete against." 
Initially, the swimmers completed a 300-yard freestyle, progressing down the lanes with splashy strokes. For most triathletes, the swim portion of the race proved the most difficult.
Then, triathlon racers darted up the hill from the pool to the Faculty Field track and started the five-mile biking portion of the competition. They had to bike up Gym Hill to begin racing at the track.   
Finally, the racers exited Faculty Field from the left gate and finished up the competition by running a lap around church loop – a loop around the Webb campus – finishing by running up Mongo Hill. 
Amanda Wang ('20), a third-year triathlete, said, "I think it is a great way to stay in shape. I had been swimming for a long time. I was getting tired of just swimming laps but I still wanted to use my skill so triathlon seemed like the next step. The season just started but every year it's a really good group of people and this year is no exception." 
After completing the course, Mr. Caldwell distributed points for the day's competition. Dean Woelfle ('21) won overall, despite having a slow start in the pool.
Dean said, "I'm not very good at swimming and that was first, so there was a lot of fatigue right away and tiredness so I had to deal with that. Though I did overall beat Garrett [ Revelli ('20)] so that's a win. Garrett is my competition. Triathlon is hard to come in good though. Everyone has to overcome something whether that is like biking or running. We can do a lot better as a team. Over the season we will get better and see what happens."
Everyone showed great determination and ability given the opportunity to race in all three events. For first-time triathletes, they were able to learn a thing or two about their new sport. 
Mr. Caldwell said, "Today was really a success in my mind because everyone really gave their best effort on all three segments of the race. You didn't see anyone making excuses. They just got out there and did their best. In the front end, like the top 5-6 people, [it] was super competitive, so it was exciting to watch." 
The Webb triathlon team is excited to continue their season with more intramural competitions every Thursday. 
About the Contributors
Laura Haushalter, Editor of Sports
Laura Haushalter ('21) is a jack of all trades: captain of the VWS swim team, future participant of the LA marathon, lover of Spanish language and culture,...
Vivien Xi, Co-Editor of Media
Introducing Vivien Xi ('21), Co-Editor of Media! Vivien has lived in many different places including Seattle, Vancouver, and Shanghai. As a member of...