Prefects host the first ever virtual Welcome Back Weekend
The first weekend of this school year was full of Zoom activities, which included amusing drawings on Scribbl.io and games of Mafia. Webbies were excited for several weekend adventures, as they got separated in breakout rooms when participating in the prefect's planned activities. The prefects worked diligently to plan a weekend full of creativity and provide opportunities to connect with one another after being apart since school got out last June.  
Operating as one large group, the dorm prefects and day student prefects all gathered to brainstorm ideas for Webb's first virtual Welcome Back Weekend. Most of the decision making came from the prefects themselves, instead of their adult advisors. Working together as one group allowed day student and dorm prefects to plan out distinctive activities within a virtual setting. 
"I think I'd say that we have a really unique opportunity with virtual learning to connect and work across the prefect council," said Jenna Hawkes ('21), head day student prefect. "When in years past we've been pretty limited by our responsibilities as day student and dorm prefects. It was really special and fun to work with Prefects from different groups and I'm hoping we can use this connection and momentum to address larger disparities in boarding and day student life for when we are back on campus." 
On Friday, September 11, 2020, the prefects hosted a virtual Mafia game for both students and faculty. Through Zoom, participants were split into breakout rooms with a prefect as the narrator, who guided them through the exciting process of playing Mafia. In Mafia, players are assigned secret roles by the narrator, such as the doctor or mafia, and they need to guess the identities of each other through elimination.  
"Mafia was a lot of fun," said Katie Arzate ('23). "It was nice playing with my friends and in my second group I [ played with] my brother and his friends and they were all doing fun different virtual zoom backgrounds which was amusing to watch." 
 Saturday night provided even more activities to help members of the Webb community feel connected. The first was a live Zoom activity playing Scribble.io, a multiplayer drawing and guessing game. The second Zoom activity was a live tour of a Minecraft server built to replicate Webb's campus. 
A banana bread baking competition took place throughout the weekend as well. Students could submit their version of the same shared recipe, including any modifications they would like, to the prefect council's Instagram, @webbprefectcouncil. The Webb community member's banana bread that gets the most likes on Instagram will win the challenge and receive a prize.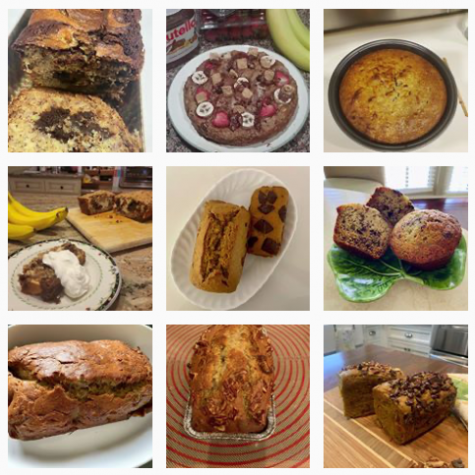 "The bread was really good! Since the bananas were really ripe the bread was super sweet and the walnuts added a nice crunch," said Sharon Xu ('22). "I think that making my bread was a really nice stress reliever, and creating the activity with my [leadership] group was really fun. I think that seeing everyone's breads [on the Instagram] also made me feel more connected to everyone." 
In addition, there was a Day Student Parking Lot and Dorm Design Contest, where students could win a gift card by designing their dream dorm room or parking spot. 
While planning the first opening weekend, it was important to the prefects to have both live and posted events, making the weekend accessible to as many students as possible. For example, students could come together at one time to play Mafia or take the "Which Webb Faculty Are You" quiz whenever they had some free time.  
"You can post – like the banana bread example is easy – you can post directions to making banana bread and have people post their stuff on Instagram and do a voting thing, like you kind of already do that anyway, so that seems like a natural fit," said Mr. Szanyi, Head of VWS Dorms. "But we did want to do some live events, and make sure that people in all different time zones can participate in them." 
This weekend served as an example of the endless opportunities to bring the community together over Zoom. Perhaps, some of the traditions we thought we had lost may be feasible online.  
"[The prefects will miss] The Halloween weekend," said Mr. Szanyi. "I always think that it is a fun weekend on campus, and of course we're just not going to do that this year. But I would like to see the spirit of Halloween manifest itself on Zoom in some way… I don't exactly know what that's going to look like, but I hope that that sort of, quote unquote, tradition of doing a fun Halloween event can translate to that. Also for Prefects, we do a big holiday party, that's something that we do. I think a significant part of that, specifically, is the holiday poem. I think that's something we can still absolutely easily do in this scenario, like we could be more creative about it." 
Although the start of the school year was different than others before, the Welcome Back Weekend events made the community come together in preparation for the academic year ahead. 
Leave a Comment