Nigerians use social media to aid protests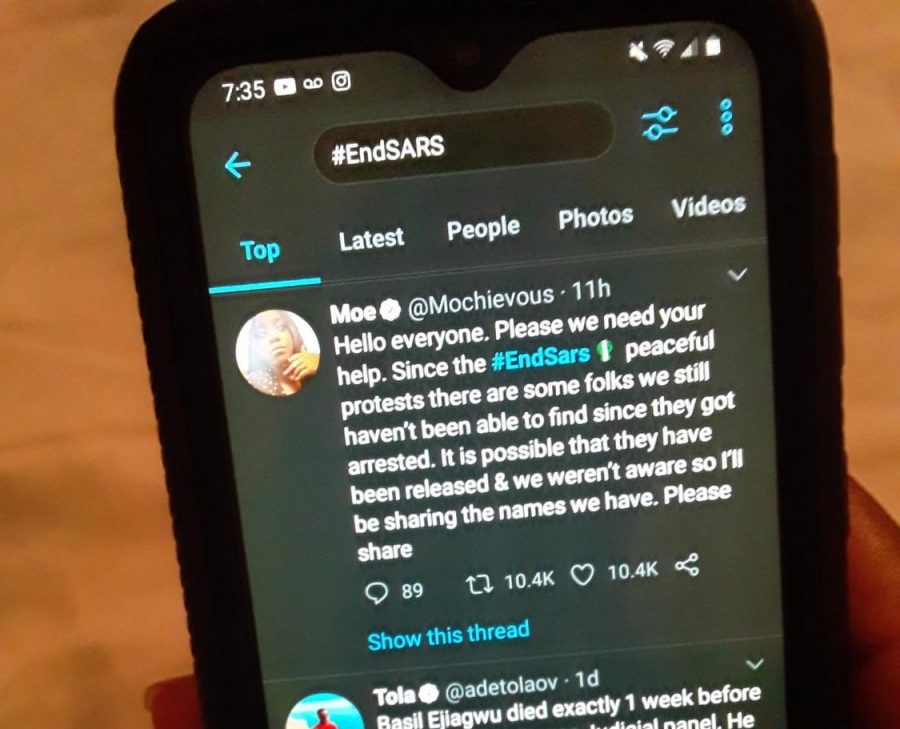 Last month, as most people began to prepare for Halloween, youths from all over Nigeria took to the streets to protest the violent nature of the Nigerian police. October 8th marked the beginning of nationwide protests against the Nigerian government, calling for the end of the Special Anti-Robbery Squad, or SARS.  
#EndSARS is not a new movement in Nigeria, it has trended online every year since 2017. This year, after a video of a SARS officer shooting an unarmed man went viral, people finally took to the streets.   
Rather than listening to the peoples' demands, the government dispatched the police and military, who met peaceful protests with excessive violence. What started out as civil disobedience from young people fed up with the excessive violence turned into a bloody massacre.  
Throughout all this, social media and the Internet have been a beacon of hope for Nigerians wishing for change. The older generations in Nigeria get their news in a traditional way, from newspapers that are often owned by politicians and large companies that support them. Younger people have used social media sites, like Twitter and Instagram, to get faster, more accurate information on the things happening in their country. 
Young people also used social media to organize and share information about protests, medical aid, legal representation and fundraising.  
On October 20th, protesters sat at Lekki Toll Gate, singing the national anthem and waving the Nigerian flag. Around 6:50 p.m., CCTV cameras were removed, and Nigerian Armed Forces opened fire on the protesters.  
The Nigerian Army denied any involvement in the shooting, but with Instagram lives from people at the gate, protesters were able to debunk these claims and call for accountability for the massacre.  
The use of social media during the SARS protests mirrors the Black Lives Matter protests that occurred across the world this past summer, where people used live updates on Twitter and Instagram to document what was going on  
The Nigerian government has a long history with corruption and violence, but the rise of social media "reporting" has made it easier than ever to call for justice and institutional reform.  
About the Writer
Wura Ogunnaike, Staff Writer
Wura Ogunnaike ('23) is a sophomore boarding student from Redlands, California and a first-year staff writer on the Webb Canyon Chronicle. Wura's...