Webbies celebrate a COVID-friendly Halloween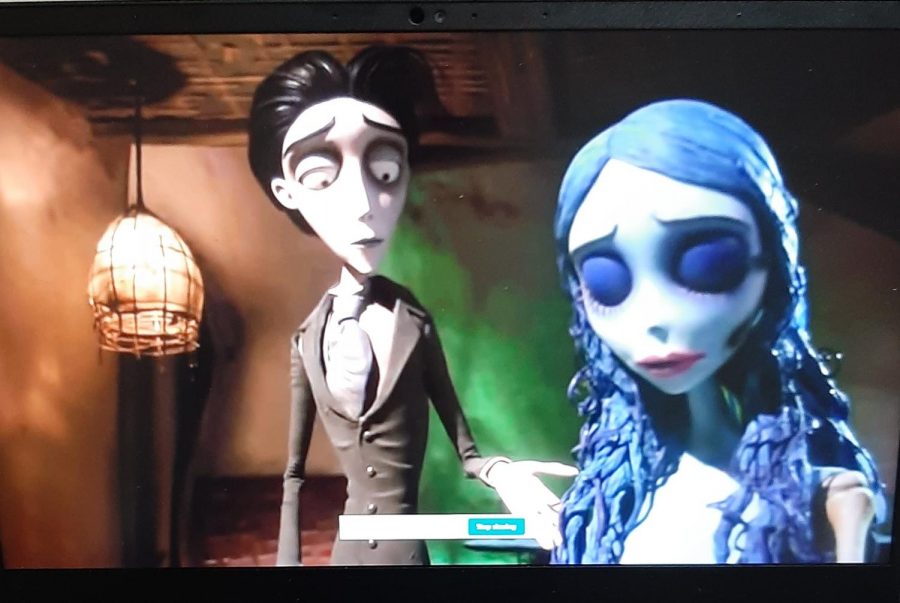 Sitting at home with the noise of scary movies blasting out of their computers, Webbies celebrated Halloween in a new way this year because of COVID-19. Though many Webb students miss the Halloween they are used to, running around Webb trying to escape "zombies," they have found new ways to celebrate this spooky holiday. 
The faculty and peer advisors still found ways to get the community to celebrate together. On Thursday, October 29th, Ken Rosenfeld, Dean of Campus Life, sent out an email giving details about the activities the peer advisors had planned.  
The peer advisors decided to host competitions for a chance to win a $25 gift card or a special one-of-a-kind rock painted by the deans. One of the competitions was who could decorate the best Halloween room. To enter, all you had to do is decorate your room for Halloween and send your picture to the peer advisor Instagram account. Another competition was a pumpkin carving contest. Whoever could make the most creative/scary pumpkin won. The last event was a scary video. Participants would make a creepy/scary video to try to scare the peer advisors. 
The most common way students decided to celebrate was by coming together virtually. Many students got together in groups online and watched different scary movies while eating Halloween candy or judge each other's costumes. This event was a creative, COVID-proofed way to celebrate Halloween. 
While a lot of students did enjoy their online Halloween experience, many felt that it was not enough. Some students who lived nearby each other decided to get together in small gatherings to celebrate. They decided to follow a lot of the traditional activities, just changed a bit to accommodate COVID-19 guidelines.  
A lot of the small groups also decided to still dress up in costumes. All the Webbies who attended these types of events were very amused by how creative the costumes had been. 
Aiden Helgeson ('23) decided to spend Halloween with some of his extended family. Instead of partaking in traditional Halloween activities, he decided to catch up with his uncle. 
"I did really enjoy my Halloween this year," Aidan said. "I did not know what to do this Halloween with all these restrictions, but my parents eventually told me that we were just going to visit family. I was a little bit disappointed in the beginning because I was looking forward to producing last minute plans. But once I got there, I knew I was going to have an enjoyable time. It was nice to catch up with family, but also to watch some scary movies during spooky seasons." 
Ryan Weigand ('23) had a different idea of how to spend his quarantine Halloween. 
"I spent some time with one of my close friends, Etienne, and we decided to carve pumpkins and talk to each other," said Ryan. "After we finished carving our pumpkins, we thought it would be a good idea to start watching a movie. We decided on watching Star Wars. We finished of the night with eating pizza and watching movies. I had a lot more fun this Halloween then I expected." 
Jordon Sun ('23) had two different experiences for his Halloween celebration. 
"I ended up partaking in two different Halloween get-togethers," Jordon said. "The first one I went to a Webb friend's house and spent time with other Webbies. I was told to show up in cosplay, and I really enjoyed seeing others dressed up. We also watched some movies, carved pumpkins, and made some cookies. The other Halloween party I went to consisted of mostly non-Webb friends. We did a lot of the same activities. We watched movies, played a couple of games, but this time we also went trick or treating. Overall, I had a lot of fun." 
The CDC has some requirements and recommendations for how people should celebrate any holiday. Every Webbie and faculty should wear a mask. Be sure to try to avoid confined spaces, they should try to abstain from partaking in large indoor activities. Be sure to wash hands and sanitize regularly. And clean/sanitize everything very frequently. 
This year looked different to many in terms of how they usually celebrate Halloween. Many people ended up just forgetting about the holiday and instead just treating it like every other day. However, many Webbies were able to adapt to the new COVID-19 guidelines to create fun and safe ways to celebrate. 
About the Writer
Ryan Walker, Staff Writer
Ryan Walker ('23) is a sophomore at Webb, who loves how open the Webb community is especially in the library and dining hall. He resides in Arcadia,...