Student in focus: Jasmine Wan, Photographer
Taking the perfect picture is no easy feat. With a camera by her side, Jasmine Wan ('23) views the world through her small yet sharp lense. Her photography stems from the practice of hunting and then capturing the exact photo that can encapsulate a whole moment.  
Remember the photo gallery for Sense and Sensibility? Those photos were taken by Jasmine as she watched the play through her camera, capturing dynamic images.  
Jasmine carries her Sony A6400 camera everywhere. She is always ready to capture moments of her friend's chapel talks, candid moments out in LA, and dorm room photoshoots.  
Her relationship with photography dates back to when Jasmine was young and played with her dad's camera. After being gifted her first real camera at 14, Jasmine has spent the past few years delving deeper into the realm of art, even exploring old-school film cameras rather than digital.  
Recently, Jasmine won the Sotheby's Institute of Art student photography contest. In the contest, students in Sotheby's pre-college program submit images they have captured. About 480 students across Sotheby's summer programs entered the contest. Jasmine's image "Life of Sichuan Opera" was selected to be published in the Sotheby's Winter Magazine 2021 edition.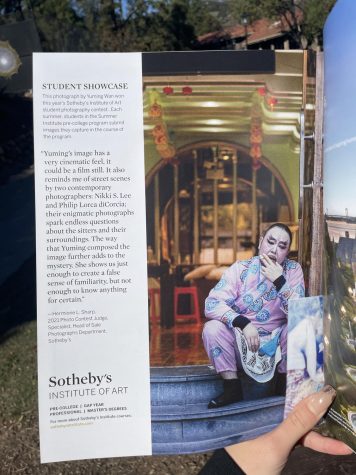 The image was captured while Jasmine was traveling with her family around China, specifically in a city called Chengdu. Jasmine spotted the man while she and her family were waiting to enter the opera house.  
"I just noticed this actor, he was sitting on a stair outside of the opera house," Jasmine said. "I just took a picture because I thought he was an interesting figure in the glamorous street. He was just sitting there alone, quietly smoking a cigarette and like looking, looking into the sheets." 
"I thought he was really different from all the tourists and workers from that place. When I went back to the hotel and looked at it, I thought, wow, that's pretty cool because it almost seemed like the beginning of a film." 
"I think it's really intriguing to see how just a single photograph can help people want to dive into personal stories." 
Members of the Sotheby's community also refer to Jasmine's photo as cinematic, however Jasmine has yet to determine what exactly her style of photography is.  
"I'm still in a process of exploring what my style is," Jasmine said. "I've done a lot of actual photo studios shoots with my friends who would model for me. That leans more towards fashion photography. But I also do portraits of like random people and strangers throughout my trips." 
"So far, my favorite would definitely be the portraits of the strangers that I met because first I don't know them, so that kind of like creates a weird sense of intimacy, but also a sense of distance between me and a subject that I like to explore. What is behind the photo? What can you tell in their eyes? I think that's what really inspires me to take pictures." 
In the program she attended, Jasmine was also able to learn about art management. She visited three specific art institutions, art galleries, museums, and auction houses and learned about the role these institutions play in the art industry.  
The program also helped her design her art exhibition, Gen疫 in Shanghai during July 2021. The exhibition featured 29 artworks from 16 up-and-coming young artists, mostly high school students. The overall theme focused on the pandemic and there were four sub-themes: fragility and strength, chaos and order, individual and collective, and warmth and hope.  
Jasmine has thought about different routes she could pursue with this artform, be that professional, as a hobby, or even a minor in college.  
"I'm not doing photography with a goal in mind," Jasmine said. "I'm just doing it because I like taking photos. And I think that's what I'm going to continue doing — to just to follow my heart and take photos whenever I like." 
View Comments (1)
About the Contributors
Nichola Monroe, Chief Editor of Features
If you're looking for a Webb big sister, Nichola Monroe ('22) is the person for you. An experienced co-chair of the VWS dorm prefect council,...
Sharon Xu, Editor of News
Unlike her favorite animal, the panda, Sharon Xu ('22) is a go-getter and always tries her best. An amicable, assiduous South Hutch prefect that dances,...