As Apple continues to release a new product every year, many are left wondering whether the growing number after "iPhone" means anything at all. On September 7th, the new iPhone 14 was unveiled at Apple's Far-Out event, held at their headquarters in Cupertino, California. At first glance, this new product looks very similar to last year's iPhone 13, but it comes with a number of upgrades to the hardware and the new IOS 16. looks very similar to last year's iPhone 13, but it comes with a number of upgrades to the hardware and the new IOS 16.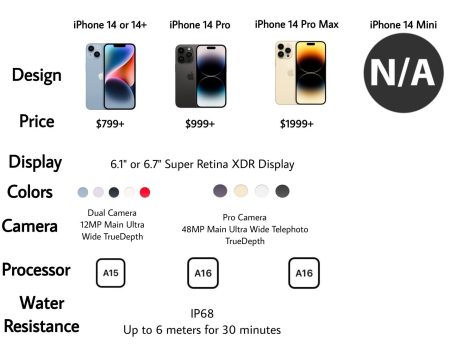 Through Apple's exclusive partnership with Globalstar Inc.—a company dedicated to providing cell phones with low-orbit satellite service—the iPhone 14 achieves pioneering capabilities in emergency satellite communications.  
These low-orbit satellites resolve the conflict of any untimely message transmission, enabling emergency dispatchers to reach you regardless of traditional network service coverage in serious situations. This partnership gives Apple the upper hand in production and makes it difficult for other companies to replicate this feature in their future models.   
In addition to the emergency satellite communication feature, the iPhone 14 also introduces a groundbreaking crash detection feature that measures cabin pressure fluctuations, speed changes, and sudden loud noises in your vehicle to trigger the automatic notification for emergency services in the event of a car crash.  
Another draw to the new phone the is the camera, which offers improvements over it predecessor.  
"It seems like they upgraded the camera, and that's the main thing that I look forward to when getting a new phone," said Molly Ratinoff ('23), one of the founders of Webb Photography Club. 
The new iPhone's main and ultrawide angle camera image resolution, advanced low-light performance, and 48-megapixel sensor work in harmony to elevate phone photography to a new level. The larger sensor means a higher resolution and better quality pictures. With the upgraded Cinematic Mode and the new Action Mode, Apple makes professional video recording available for iPhone users, allowing stable and smooth footage. The ability to take life-like and vibrant shots attracts the attention of many photography enthusiasts and content creators to Apple's new release.   
Along with the additional safety features and improved camera, the iPhone 14 comes with some controversial changes, or rather the lack thereof. The first is Apple's decision to remove the physical SIM card slot. In its place is an embedded SIM card, or eSIM.   
While this technology was introduced in 2018, this is the first time that it is completely on its own without a physical SIM card. The eSIM presents some exciting possibilities for phone usage, such as easier carrier switching and access to multiple numbers on one phone, which would benefit international students who use more than one area code. 
"I think iPhones are annoying because they never have dual SIM card slots and as an international student, I need two SIM cards," said Yoyo Meng ('23), an international student from China. 
However, switching phones with an eSIM is more work than simply moving your card from one tray to another. In theory, using an eSIM should make this process faster, but users have complained about the multi-step process that accompanies current eSIM compatible phones. This technology also makes it easier for users to be tracked by their network provider, which may be an issue for those concerned about photography.  
The second controversial change is the lack of an updated processor for the iPhone 14 and iPhone 14 Plus. The two phones will use the A15 bionic chip that is currently in the iPhone 13 Pro. Only the iPhone 14 Pro will be receiving an upgrade with a new A16 bionic chip. Fans speculate that this is due to the worldwide chip shortage that hasn't quite come to an end yet. 
The demand that COVID-19 lockdowns created for consumer electronics greatly overwhelmed supply, and producers haven't been able to catch up. Companies like Apple responded by tweaking device specs to make the most of their materials. But for casual iPhone users, this might not matter too much.   
"Honestly, I believe the iPhone 13 Pro's processor is powerful enough and I'm sure the iPhone 14 will still impress me in other ways," Clarence Deng ('23) said. 
Overall, the iPhone 14 comes with a number of new updates like eSIM cards, an improved camera, and brand-new safety features. For users more focused on performance, the new iPhone may not be necessary due to its similarities to the iPhone 13. However, for those upgrading from an older model, taking advantage of all the new features and investing in the iPhone 14 will be worth it.