Every year, all six of the WSC dorms come together to partake in countless hours of VWS-led practices, where they tirelessly recite coordinated dance moves in preparation for the notorious dance competition, Webb Idol. On the day of the performance, crowds of both faculty and students gather in impressive numbers around crossroads, applauding the WSC students for their hard work. The question that emerges from this event is: why cannot VWS participate and get the same experience as WSC students? 
"I think it positively shows that even our WSC community can dance — that we all can get up and groove and have fun or be silly dancing around," said Michael Szanyi, the lead advisor of Webb's dance program. 
Once dance season ends in the winter, VWS students often volunteer to choreograph for the different WSC dorms' dances, setting aside time for several practices to prepare them for the day of the performance. Despite these students' choreographing work behind the scenes, Webb Idol has remained a performance competition for solely WSC students. Many VWS students have questioned the reason for their inability to participate, and the impact of this WSC event.  
"It [Webb Idol] was also to get people to be a little bit uncomfortable and you know, step out of their comfort zones and have fun," said Ken Rosenfeld, Dean of Campus Life. "As far as why VWS has not been welcomed to perform, it is partly [because] it has always just been a WSC boarding activity." 
VWS students work hard to figure out how they can include the many talents of the WSC members in these dorms. They will add singing, rapping, beatboxing, and even flips if people are able to do so. The VWS students work these talents into a theme they have created throughout the 5-minute dance, adding unique costumes to create a more extravagant look to the theme. Following the dances, VWS students often get a gift card and a bouquet of flowers for their efforts in putting the performances together.  
The history of Webb Idol has consisted of similar lighthearted performances with an assortment of costumes and props. A yearbook discovered in the Webb archives displays WSC dorms dancing using choreography made by VWS.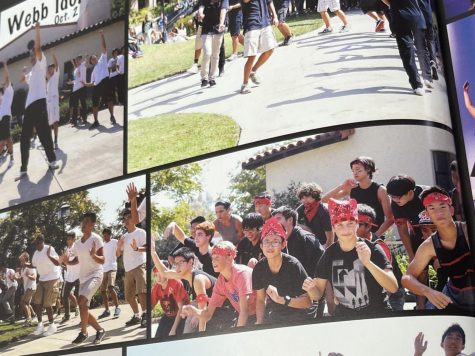 Although certain aspects of Webb Idol have changed over the years, the core of the tradition remains the same. However, as Webb begins to shift to a one-school model, the long-living tradition of Webb Idol as just the WSC dorms dancing may likely continue. It is especially integral to acknowledge the possibility of VWS wanting to participate in Webb idol or an event similar, although it has never happened in the past.  
"There was a concern that if VWS got included the groups would be too big and the WSC students would go hide in the shadows again," Mr. Rosenfeld said.  
When exploring the past of this wholesome tradition, it may be valuable to start conversation on how Webb events should change to establish more equality between the VWS and WSC boarding community. If VWS would like to perform in a dance competition, they should have the right to do so, and for faculty to say that involving the VWS would take away the spotlight from WSC is faulty.  
"I have also heard that the VWS dorms want to do their own version [of Webb Idol] and that seems like a plausible idea," said William Allan, Humanities Department faculty. 
The idea of another version of Webb Idol that is solely for VWS dorms to perform sounds appealing to many VWS boarders. 
"I still think I would do it again because it was very fun and most of the time [WSC students] were respectful," said Christina Young ('25), a past choreographer for Webb Idol. "I just wish VWS could still perform in something similar since we don't have a performance tradition of our own." 
As rehearsals for Webb Idol have begun for the performance on Monday, March 13th, we should, as a community, all prepare to support and cheer on our fellow WSC boarding students in continuing this tradition. However, at an institution like Webb that is constantly changing and adapting towards creating a welcoming and inclusive environment, we must remain mindful in recognizing the differences in the VWS and WSC experience. Creating similar activities for VWS would be a perfect way to bridge the gap, considering VWS dorms may not feel as valued as we transition into a one-school model since they have no tradition of the same caliber and excitement as Webb Idol.