Why Taylor Swift grinds my gears
Hang on for a minute...we're trying to find some more stories you might like.
There is no doubt Taylor Swift has a large following. From the moment those teardrops fell on her guitar to when she tried to run away from her country-girl image with Reputation, her fans have stayed loyal and true, defending her every move (or lack thereof). Perhaps it is her average ability to sing or the passive aggressive pettiness embedded in her lyrics that draws people in, but I have yet to see the appeal. To me, she is a whiny pseudo-feminist with a knack for airing out her dirty laundry at the expense of anyone, male or female, that has ever come into contact with her.
  First, she calls out "bullies," preaches about feminism, labels herself an enemy of "girl-on-girl" drama, while she herself is the biggest drama queen and instigator of petty gossip. Exhibit A: Katy Perry and 'Bad Blood.' The two pop singers started off as friends, wishing each other happy birthday on Twitter and congratulating one another on awards, but during Swift's publicity tour for her fifth studio album 1989, she revealed her hit 'Bad Blood' was about a fellow female singer. The drama started when three of Swift's backup dancers switched over to Perry's tour. According to Business Insider, one of the dancers said, "We weren't really dancing in Taylor's tour anyway so I had got a little bored and I really wanted to do a promo tour." Instead of simply writing a subtweet or just moving on with her life, Swift capitalized on her personal issues. While she may be a good businesswoman, it is at the expense of her own principles.
  But don't fret, her wrath is not limited to her female peers. Swift stays relevant by calling out her exes. Cute. We can't forget, though we try, her 2013 Grammys performance of 'We Are Never Ever Getting Back Together.' In the segment when she pretends to talk on the phone, a cringe-worthy detail she loves to add within her songs, she faked an English accent, obviously trying to imitate Harry Styles, her most recent ex at the time. Ironic since he broke up with her. After that callout, don't worry Taylor, he won't want to get back with you. Like ever.
  So why is Swift so eww? Writing songs about break-ups, especially bad ones, is nothing new in the music industry. My problem with Taylor begins in her delivery and extends beyond the lyrics. Pettiness, despite its popularity on #relatableteenposts, has never been a good look. Yeah, poking fun at a former lover can be a cathartic way of moving on, but leave it in the group chat or in late-night conversations. Make music for the shared experience, to connect with an audience, and to offer consolation. One can argue that any break-up song is simply commodifying pain, but then again, not every artist removes their music from Spotify.    
  Adele's post-heartbreak album, 21, is far more than a revenge record. The songs are soulful and raw, a far cry from Swift's peppy anthems. The point of Adele's music is to connect, and Swift's, to humiliate.
  Not to mention, a writer of The Daily Stormer, a white supremacist blog, called Swift an "Aryan goddess." Since Swift does not speak on any political issues in her music, I doubt she is secretly promoting Nazism, but she has yet to denounce her strange endorsement. We can't assume her political (or ethical) leanings if she decides to keep them to herself, but I can't help but think silence is affirmation.
  Taylor Swift is a people-pleaser. She can't bear to ruffle the feathers of her more conservative fans by denouncing alt-right sponsorships, but finds no shame in exposing her personal relationships. I guess you don't have to think that deeply to enjoy her music, and she probably doesn't want you to either.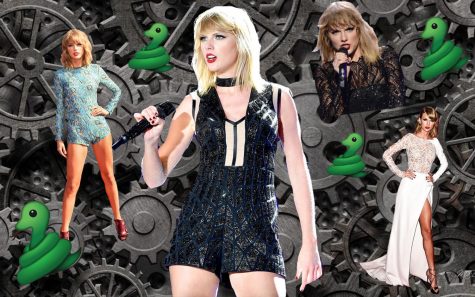 About the Writer
Anissa Medina, Assistant Editor-in-Chief & Editor of Culture and Lifestyle
Anissa Medina ('18) is the Assistant Editor-in-Chief and Editor of Culture & Lifestyle of the Webb Canyon Chronicle and has been on the team for three years. She joined the newspaper because she loves to write and participate in important dialogue, especially issues concerning minority representation. On campus, Anissa is also the captain of the...