¡Nos vemos en el festival!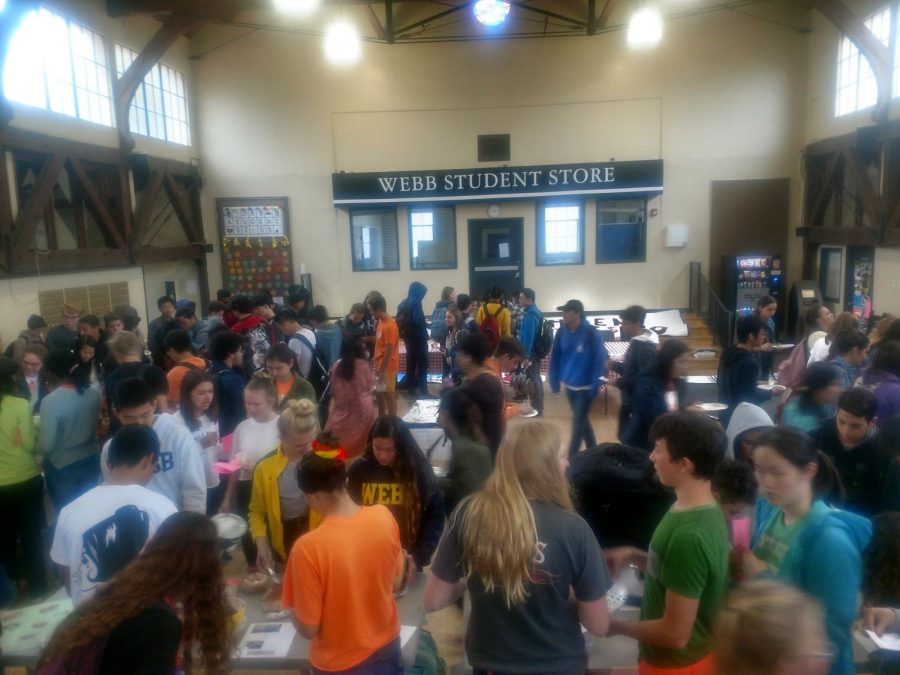 The week of Theme Nights was not just a week filled with dressing up and showing school spirit– Leah Rogstad, a faculty member of the Foreign Language Department, and other students in the Spanish program hosted El Festival de Comida on Wednesday, March 21. Sonsoles Cardalliaguet, also a faculty member of the Foreign Language Department, and her class also participated in this event.
   While rain drizzled outside, students piled into Hooper as El Festival de Comida began. Srta. Rogstad passed out sheets for students to vote for their favourite dishes and presentations. There were rows of tables arranged in a loop, all stacked with foods ranging from tacos to sopa paraguaya, Paraguayan soup, to manjar de coco, coconut custard. These foods were all made by students in Rogstad's and Cardillaguet's classes.
   After the students received a paper plate, they wandered around, stopping at different tables as Spanish students served small portions of the food they prepared while describing their recipes.  As he was walking around, Jake Sharifi ('21) tasted and enjoyed the pan dulce.
   This food festival resembled a busy food market: a sea of students lined up behind each table to test the foods, all eager to try out the treats. Spanglish filled the room as presenters and cooks proudly explained and brought attention to their foods. The different dishes emitted scents, savoury and sweet, further increasing their appeal to the hungry Webbies.
   To the Spanish students, this was a chance to experience Latin American culture. They prepared posters and found recipes to ensure the  success of the festival. Lily Miller ('21) said, "Manjar de Coco was easy to make; a lot of people liked it. It was fun to make because you heat it up and it clumps together."
   Students who take other language classes, such as Chinese and French, also attended this event. Carly Granda ('21), a participant, said, "I spoke in English and Spanish. Sometimes it was hard to answer technical questions about the food in Spanish… I came to explain the arepas [,one of the dishes] as a Venezuelan pancake."
   Srta. Rogstad was very satisfied with the event, "I am pleased because students got to try a lot of foods and the event expanded their experience out of the classroom." Another Spanish teacher, Sra. Cardalliaguet was impressed with the sopa paraguaya.
   This flex time activity was not only a chance for students to try new foods, it was also an opportunity for them to gain one culture point for being there. A culture point is used as a new record system to track students and their attendance at cultural events hosted around. Each student is required to get 3 culture points every quarter. In the past, culture events have ranged from watching a traditional Chinese lion dance to language tables during lunch on Thursdays.
   Students and teachers enjoyed their time at the festival, and are looking forward to more events like these. In the future, Webb may be hosting more events like these, where students and teachers collaborate to spread cultural awareness.
About the Contributor
Summer Chen, Editor-in-Chief
A bonafide Libra, Summer Chen ('20), the Editor-in-Chief of Webb Canyon Chronicle, believes herself to be emotional, caring, and guided by her intuitions....