Rivalry between Webb and Stevenson
As two of the top 50 private boarding high schools in California, Stevenson and Webb share many similarities. Starting this year, the competition between Stevenson School in Pebble Beach and The Webb Schools in Claremont extends beyond the admission office.
Head Coach of The Webb Schools football team, Amahl Thomas, noticed the tension between these two schools as both of the admission offices competed for the same students and high quality teachers. Therefore, Coach Thomas proposed the idea that turns the simple competition between admission offices into the rivalry between two schools which will include multiple programs in the future.
Coach Thomas reached out to Taylor Stockdale, Head of The Webb Schools. "I first contacted Mr. Stockdale, and I said, would we be able to play them? He actually said that would be awesome." The rivalry idea was introduced to Mr. Stockdale by Coach Thomas through a simple phone call, and the idea was perfected with Steve Wishek, the Athletic Director of Webb.
However, though all three "decision makers" at Webb reached an agreement, the Athletic Director of Stevenson School was not a huge fan of the proposed rivalry. Thus, the process was put on hold for a few years until a new Athletic Director arrived to Stevenson School as well as new Head Coach for the football team. After last year's breakout season with an overall record nine wins and three losses, Coach Thomas believed that the 2018 season would be the right time to replay the rivalry idea. The Webb Gauls visited Pebble Beach to compete on September 1st, 2018; the rivalry is now official.
With the dominating performance by Quarterback Nick Johnson ('19), Running Back Simon Dawson (19'), and Defensive End Alex Cardenas ('20) on both sides of the game, the Webb Gauls beat Stevenson Pirates with a final score of 42-20. Reflecting on the game, Coach Thomas believes that it was overall an "awesome" start of the rivalry. "You know, it would have been bad if we went up there, and we were being jerks, but I thought we were great guests and they were awesome hosts. If we can return the favor next year, I think that will set the table."
Coach Thomas also clarified that he does not want to push the "rivalry" to a "mean and negative" level. "You know I thought we all got along so great. I'm thinking that if we can make it like, the winner gets something after the game and keeps it for a whole year, something like that would be awesome."
Team Captain, Running Back, and Middle Linebacker Simon Dawson ('19) believes that Coach Thomas made a great point on how to push the rivalry on a higher level. "Yes I do think that is a
great idea, I love it. Creating such 'rivalry' gives us something specific to work on every season. We do play with some schools like Santa Clarita or Saddleback, but it's more like a personal thing, it is still different from a real established rivalry, like with Stevenson."
Besides the compliments Simon added to the rivalry idea, he also shared how he felt during the process as a player. "I felt a bit weird at first" Simon said, "We ate in their dining hall the night before the game, so in the game I pushed a kid to the ground and then I started staring at him, and then I realized that he is the one I was talking to at the table last night." Simon felt that the rivalry idea will make players more motivated while playing on the field, and at the same time creates friendship off the field.
Coach Thomas also mentioned that as the football team changes their league relatively frequently, so it would be helpful to extend our rivalry outside the immediate area we live in. Coach Thomas referred the Webb & Stevenson Rivalry as more similar to Notre Dame and USC than UCLA and USC, because the schools are far apart, so every time they meet, it turns into a big game.
On the other page, creating a rivalry between schools enables Webb students to get to know more people about the same age, and those who receive a similar education. Compared to normal private schools, Coach Thomas believes that Webb and Stevenson are on another level, which makes the rivalry meaningful and unique. "We've played private schools, but we are talking about boarding schools, which is a whole other element. We ran into a lot of private schools, like Excelsiors (CA), and their coaches were like 'Oh yeah, our school is just like yours' but I'm like, come on, it's not the same."
Coach Thomas has a plan for Webb and Stevenson in the future; he does not want to simply recruit excellent football players from Northern California, but also strives to push the rivalry onto a higher level by inspiring private boarding schools' students to learn from each other  and to achieve higher goals together.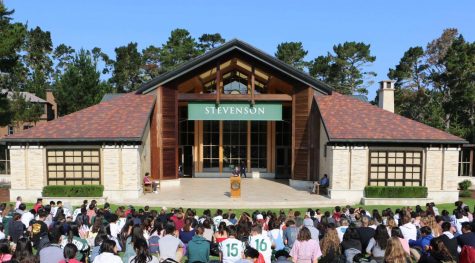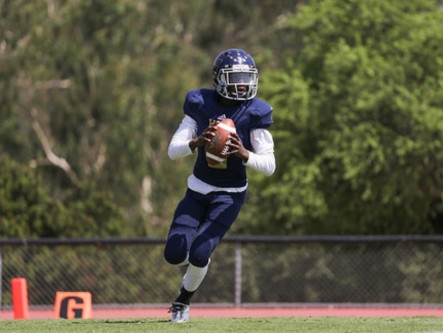 About the Contributor
Stephen Li, Chief Editor of Media
Stephen Li ('21) is the Chief Editor of Media this year for the Webb Canyon Chronicle. He only started photography recreationally four years ago, but...