A season of change: Spotlight on VWS water polo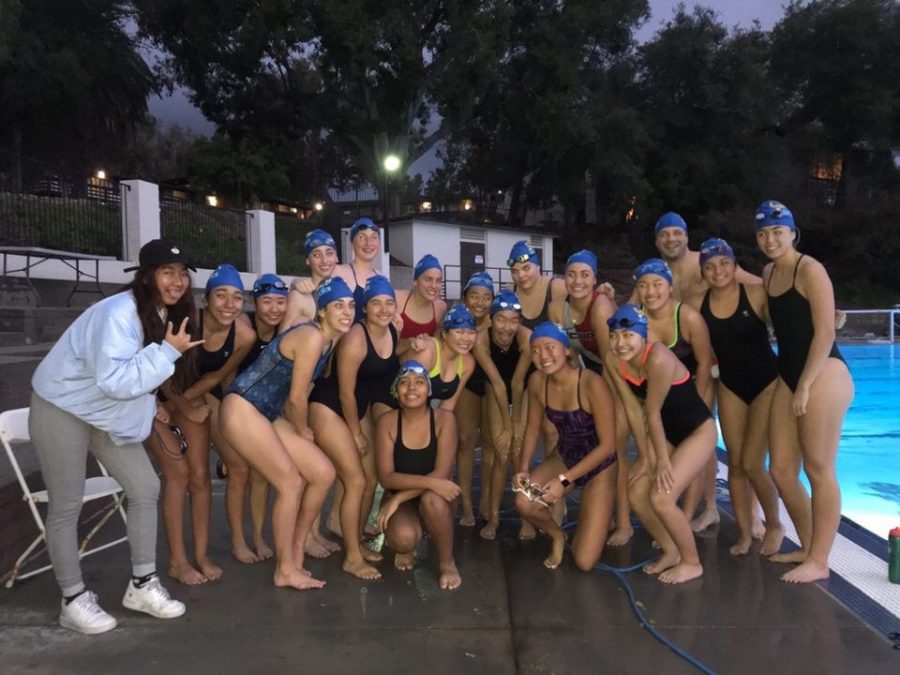 "
"This game rewards effort.""
— Tom Jurczak
Before a large tournament or in between quarters, VWS head water polo coach Tom Jurczak loves to motivate his team by reminding them of this golden tenant of water polo.
Water polo is a brutal contact sport that demands both physical exertion and mental awareness at the highest levels. From intense legwork conditioning to practicing one-on-nobodies in the pouring rain, VWS water polo athletes strive to do their best and devote maximum effort to the game.
The structure of this year's VWS water polo team is unparalleled to those in the past. The 2018 season introduces 10 new players to the budding water polo program, eight of whom are part of the junior class. The lineup consists of seven varsity starters, six varsity/junior varsity interchangeable players, and eight junior varsity athletes.
Mr. Jurczak said, "We have a lot of work to do, but we are making strides. My goal for the season is that we prepare so that everyone understands their role and is able to step up to be the player that they can be."
Lindsay Jung ('19), a two-year varsity VWS water polo co-captain, said, "We have a lot of talent this year. I hope that we do well in league and I have a good feeling that we are going to go pretty far as our team progresses together and learns to collaborate. I love that water polo is a team sport, that the girls who came out this year all have positive energy, and that the team is becoming more and more like a family."
On Thursday, November 29th, water polo players participated in a nationwide hour-long team building conditioning continuous relay of all-out 50-yard sprints. As girls sprinted down the pool, Christmas tunes blasted from the speakers and teammates hooted and hollered to cheer each other on. Each girl received a cap labeled "Cancer Sucks" to raise awareness of Sarcoma research. After a sudden crack of thunder echoed in the distance, this "hour of power" got cut short to only 53-minutes of power.
Emily Arias ('20), a new member of the VWS water polo program, said, "When Coach Jurczak first introduced the hour of power I was kind of scared, but while actually swimming I thought the way everyone was cheering each other on continuously for the entire hour was extremely supportive. Water polo has been a lot more difficult for me in comparison to volleyball and softball because obviously I'm new, and I've also had to do a lot more conditioning compared to the other sports I do on land. Although it's hard, it's been really interesting learning more about the game and how it works as the season is going along."
From Friday, November 30th, to Saturday, December 1st, Claremont High School hosted the Claremont Varsity Tournament with gold division rivals like Upland and schools all the way south as San Dieguito. Webb performed at a commendable level in the tournament, placing 3rd overall following a close 7-8 lost to San Dieguito in double overtime.
Looking ahead, the varsity water polo squad will venture to Alta Loma High School for the Ayala Varsity Tournament on Friday, December 14th and Saturday, December 15th. They will compete in five games total: two on Friday afternoon and three on Saturday.
Rain or shine, hail or storm (unless there is lightning), VWS water polo athletes can be found in the pool making waves and getting rewarded for their copious efforts.
About the Contributor
Sydney Wuu, Editor-in-Chief
Imagine being Editor-in-Chief for the Webb Canyon Chronicle, VWS all-school president, co-captain of the varsity tennis and water polo teams, and a big-time...