Webbies take "W's" against Poly in early non-league competition
"Take your marks… [BEEP!]" Swimmers dove into the pool and were off to racing at their dual meet at Polytechnic School in Pasadena. Following close wins against Poly in the 2019 season, junior varsity and varsity swim squads traveled on the afternoon of Friday, March 6, 2020, excited to hopefully beat Poly again. 
Last season, the Webb swim team left the Prep League to join the San Joaquin League. Since switching leagues, Webb no longer gets to go head-to-head against Poly in league action, but still enjoys racing them. Poly, like Webb, is in division three of the CIF Southern Section. For more than five years Poly had crushed Webb in dual meets and at League Championships. 
The highlight of the meet was an impressive swim for sophomore Kevin Ren ('22). Kevin swam a 58.53 in his 100 yard breaststroke, breaking the Webb school record, which he set last year. Additionally, he broke the pool record at the aquatic center at Pasadena Poly. Poly has had many CIF individual champions and fast swimmers in their pool, so it is an honor that Kevin's name is now on their record board.  
"I had a lot of fun," said Kevin. "It was a pretty decent meet. I feel like I can improve on some of the technical aspects of my swim and condition some more."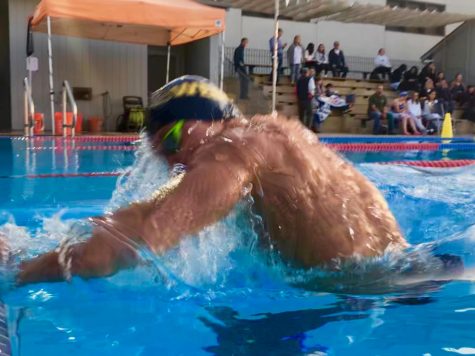 Despite being early in the season, Webbies still pulled off solid swims. For junior varsity swimmers, the Poly meet provided an opportunity to learn the ropes of an away swim meet, where they do not have the comforts of the Webb pool.   
Other standout swims include CIF consideration times for the boys and girls 200 yard freestyle relays. Kennedy Becher ('21), Jase Chin ('23), and Madeline Lilley ('22) swam fast enough to receive CIF consideration times in their respective races. 
Three VWS divers kicked off the competition. Josephine Burdekin ('22), Emma Holliday ('22), and Caitlin Pender ('20) each completed six dives. Together, divers scored nine points for VWS varsity. 
"Diving isn't easy, but it has been a lot of fun," said returning diver Emma. "It's only been a few weeks, but we are all excelling rapidly. It was an amazing experience watching other skilled divers at the Poly meet and seeing where a lot of practice can take you." 
VWS varsity beat Poly with a score of 83-76. VWS junior varsity also won with a score of 62-30. Additionally, WSC walked away with a win of 96-59. Unfortunately, the WSC junior varsity fell short to Poly by five points.   
"It takes a team like this to realize pride and success are not just defined individually, but also as a collective," said co-captain Kennedy. "Watching my teammates swim and knowing that I had a part in their success as well as they had a part in my mine gives me the feeling that this is much more than a team. It's like a family that will always support each other, no matter what struggles or triumphs we experience." 
Unfortunately, the 2020 swim season has been cut short. Next year, the swimmers will have the opportunity to train and push hard again and will be ready and eager to compete. 
View Comments (2)
About the Contributor
Laura Haushalter, Public Editor
Enthusiastic, positive, determined, and athletic, Laura Haushalter ('21) uses her passionate attitude to take on many leadership roles: captain of the...