Blast from the past! Travel back to Webb in the 80s…
BAM! What's this? Where am I?  
Well, you have just been transported to the 80s — specifically the Webb Schools in the 1980s. 
After a season of hard work, archivists have just found a time machine transporting us a few decades back to catch a glimpse of Webb journalism before our digital age. From the 80s to the 2000s, countless milestones marked the progression of our long-standing institution through a series of ink-staining news and articles.  
What are you waiting for? Let's explore!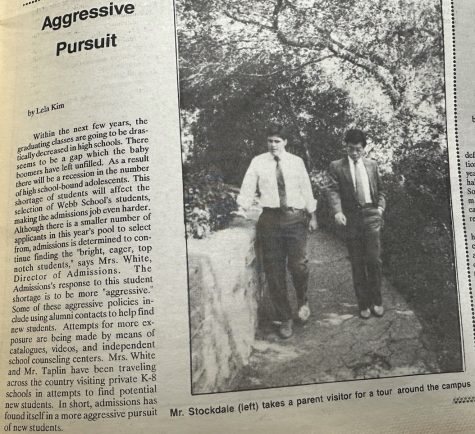 Although we know Mr. Taylor Stockdale as the Head of Schools, in charge of important administrative decisions, many new to the community are not aware that Mr. Stockdale first started at Webb as an admissions officer! This photo shows the Blue and Gold, an older version of the Webb Canyon Chronicle, covering Webb's admission status. With a shortage of students, Admissions attempted more "aggressive" policies including using alumni contacts and paying visits to K-8 schools across the country, never deterring from their mission of finding "bright, eager, top-notch" students. When viewed in parallel with today's 10% acceptance rate, we can't help but feel fortunate to be a part of this historically rich and intellectually vibrant community.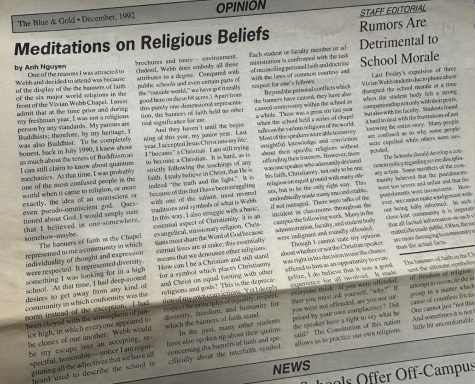 When Webb was founded, religion was an integral part of the experience. The chapel was built on the idea of honoring the numerous religions and beliefs on campus, gradually shifting to today's place for senior chapel talks. Yet the appreciation for diversity and breaking out from "conformity" is a value that still holds true to Webb even today. However, it's equally interesting to read about the clash between championing an environment for diversity and one's own personal beliefs — a challenge that is prevalent not only within our school, but within the greater world around us as well. Today, chapel is not used for religious purposes, but it still speaks to the community in a way where we can appreciate the original sentiments behind the creation of this building — a place to bring everyone together.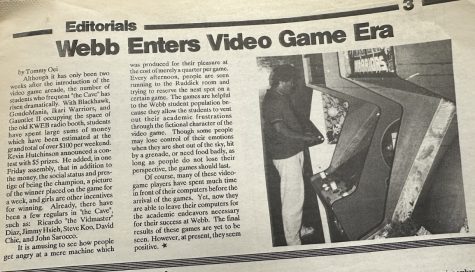 With the advent of the video game arcade, more Webbies left their dorm rooms and laptop screens to play games like Blackhawk, GondoMania, Ikari Warriors, and Gauntlet II. The featured editorial concluded by noting the positive impacts of Webbies not spending all their time on academics, a message that still rings true today.  
Nowadays, games like Brawl Stars, Retro Bowl, Minecraft, Roblox, Shell Shockers, Battlefield, Valorant, League of Legends, Counter Strike Global Offensive, and much more are popular within the Webb community. Card games like Yugioh and Magic the Gathering are also gaining momentum, according to Jack Zhou ('23), a regular gamer. Additionally, gaming patterns can be observed across different grade levels.  
"I think the most relevant example is online chess, which is currently making a resurgence among seniors especially," George Cardenas ('23) said.  
With these options, Webbies spend on average 1.5 to 3 hours a day playing video games.  
"This length would elevate to 3-6 hours or even more during the weekend," Teddy Meng ('23) said.  
Although many of us play video games on electronic devices instead of communal game machines now, the importance of in-person interactions has not diminished.  
Knowing how video game culture at Webb has evolved allows us to reflect on how we spend our free time. By signing up for weekend runs with friends, hanging out in Hooper or Fawcett, and joining a new sports team, we can continue to embody the carefree spirit of older Webbies!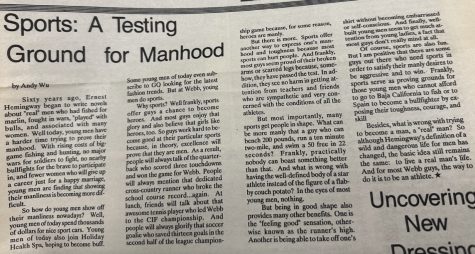 There is no telling whether this piece above is serious or satirical, as it demonstrates all the prominent red flags of toxic masculinity. Written by then Editor-in-Chief, Andy Wu, more than three decades ago, the article argues that sports had become the best way for WSC students to demonstrate their manhood. Andy laments that with less opportunities to go fishing or serve in foreign wars, young men are finding it increasingly difficult to showcase their abilities.  
When viewed with a modern-day lens, it becomes clear that WSC students in the 80s were plagued by the influence of patriarchy and constantly feeling the need to prove themselves. By reflecting on how far we have grown as a community –– both WSC and VWS sports thriving in their leagues –– we can better appreciate the steps that our school has taken to provide equal opportunities for all students. 
Changing times have always prompted challenges for Webb, and in the 80s, the stock market crash of 1987 was no different. Impacting the budget, the crash had substantial effects on planning and allocation. While the priority was to keep the teacher's pay untouched, proposed reductions for other departments such as maintenance meant that students were required to volunteer and step up.  
Webb's progression from struggling to maintain its faculty to building robust academic programs and weekend activities shows how far we have come. However, certain aspects mentioned in this article, such as paid breakfast check-in workers, lead us to reflect on how dorm and day student prefects currently perform duties that were previously paid-for.  
Today, Webb has much more room to allocate budget for additional resources, such as bringing in guest speakers, providing DEI workshops, and allowing students to go on Unbounded Days trips. During these kinds of challenges, it's always interesting to see how faculty, administration, and students interact to work toward the challenges together, something we have seen no short of in recent COVID-19 years as well.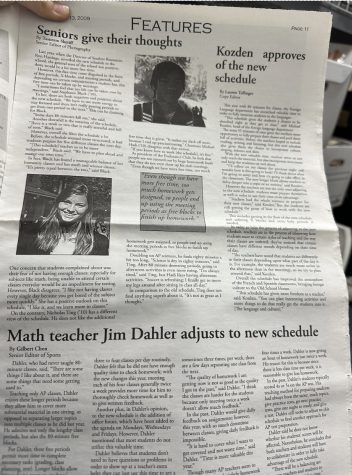 The block schedule Webbies have all grown to love (or not) wasn't always a hit when it was first revealed a decade ago. Back when 45-minute classes and five classes a day were the norm, the old schedule had introduced itself to free periods, 80-minute blocks, and the holy grail we know today as office hours, while also inviting a new way of Webb life.  
"The main reason [for the change] was because we felt 80-minute blocks were much more substantial in terms of diving into content." said Mr. Michael Hoe, Director of Studies. "With 45-min periods, we were cramming five to six periods a day instead of three, and less material a day might deepen the understanding of certain classes. Also, without so many classes a day you could build in office hours, chapel, advisory, and fit those into the schedule" Mr. Hoe said. 
Students and teachers alike had to adjust, finding both qualms and satisfactions to voice while working together to adapt to the schedule. Today, the block schedule remains, with mixed opinions and feelings remaining. 
"I think the 80-minute time doesn't really work well," Kevin Wang ('24) said. "The first twenty minutes of the class is usually devoted to something different, and you don't really have time to focus on the new content."  
Above all, the importance of a balanced schedule had made itself more prominent during online learning as we reverted to shorter, 45-minute classes and Wednesdays off for a while. Today, it's interesting to see how the schedule that is so familiar to us today once prompted uncertainties and made compelling headlines in our very own WCC. Withstanding experimentation since the beginning, the schedule has always been an integral part of the students' experiences at Webb and finding that flow that pulls it together is crucial to create an environment where learning, socializing, and resting can co-exist for all students.  
View Comments (1)
About the Contributors
Jenny Wang, Copy Editor
Jenny Wang ('24) is coming back to the Webb Canyon Chronicle after spending a memorable summer at the School of The New York Times, a summer program where...
Kaylynn Chang, Editor-In-Chief
An avid bookworm, journalist, and sushi lover, head day student prefect Kaylynn Chang ('23) comes back to the Webb Canyon Chronicle for one last year...