With Webb's proximity to Los Angeles, it is impossible to ignore the rich and vibrant culture that is seen throughout the city. The abundance of art, music, and food within the communities demonstrates that Los Angeles is arguably one of the most diverse areas in the world. From the Melrose Trading Post to the Rose Bowl Flea Market, a growing trend of diverse flea markets have dotted the city.  
But for many, these flea markets are more than simply a collective shopping area; they are a place to celebrate small businesses and marginalized communities.  
Since its launch on June 6th, 2021, shortly after the decline of the COVID-19 pandemic, the Black-Market Flea has gained the attention of over 74 thousand Instagram followers and the performances of renowned Black artists like Anderson Paak, Isaiah Rashad, and Saba, who each have millions of monthly listeners of Spotify.  
Described as a uniquely curated experience, Black Market Flea is a monthly flea market with over 200 exclusively Black vendors at every event and is open to the public with an average price of $5-$15 for ticket entry.  
The Black Flea Market's community is a place for both Black and non-Black supporters to uplift Black successes and businesses. Its community is celebrated for its access to everyone, encouraging the support of non-Black attendees.  
"Tickets are encouraged & available to our non-Black & especially White supporters," said Mayah Hatcher, co-founder of the Black Market Flea. "[Black Market Flea] is about showing up for the Black community. We put our highest efforts into building and curating this space, & we encourage our non-Black supporters to contribute to the culture more than they consume it."  
It is important to show up and contribute to growing communities such as the Black Flea Market, especially since Webb is located in LA county. It creates a space for Black creators who share similar experiences and ideas, but also a space for culture and love. 
"I found the flea on Instagram about a year ago and I was immediately enthralled by it," said Sasha Camacho, a regular attendee to the fleas.  
"After going to the flea, it reminds me that somewhere, someone will enjoy my art and not overlook me because I am black but appreciate me more because of it. The impact it left on me is forever and will be a place I hope to visit for a long time." 
We had the pleasure of attending the Black Flea Market's most recent market on March 25th. Upon first glance, you can easily tell the amount of love and care that went into this market, celebrating Black culture. There were a wide variety of vendors, from homemade skin products to second-hand vintage clothing. Each vendor's section was curated to fit its products and every booth was beautifully expressive.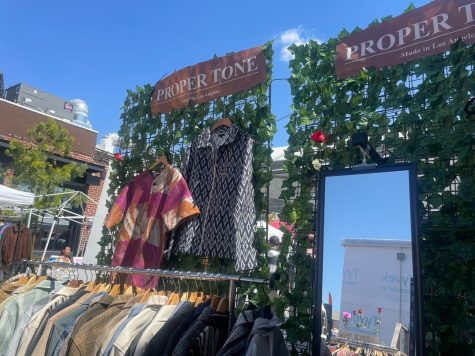 Across hundreds of vendors, we were drawn to a booth that clearly worked hard to curate unique eye-catching pieces of clothing. Eric Bernard, the founder of the clothing brand Proper Tone, is a regular at the market and has found solidarity in sharing his love for his art with his community.  
"It's a great place to be and spread the word of positivity," Eric said. "We can do it too." 
Eric has attended other markets and events such as the Rose Bowl Flea Market, the 626 Night Market and many more across California. His brand started with a small production of clothing, helping others with their stories, screen presses, and brand identity. 
"Eventually, it evolved into me having so many ideas to where I wanted to start my own thing. I wanted to tell who I was and my story. With a lot of travel and a lot of experience, this is what I have to show for myself today," Bernard said.  
 Eric has helped multiple brands that sell their work at the fleas and continues to be a huge part of the community. 
"Black Market Flea has been an ultimate experience for all of us inner city creatives. As a Black and Mexican creative from Compton, it has been a great outlet for us to showcase [my] hard work," Eric said. 
Something that we would like to highlight is the Black Flea Market's music and food. The energy of the general crowd in combination with classic black artists and music playing as we walked around added to the vibrancy and atmosphere of the event. Performance by beloved artist, Mereba, blew us away. It was clear that the music and performances were a particularly important part of the event, contributing to the overall care and love of the community.  
We highly recommend this event to anyone interested. Black Market Flea's love for culture, food, small businesses, and community is undeniable. Whether you are a fan of Black music, love trying soul foods, or are looking for a fun event full of vibrancy and culture, there is something for everyone to experience.  
So as March comes to an end, and we enter Spring Break, look out for the next monthly Black-Market Flea scheduled for the end of April on the 29th!