H2O spills into the hype industry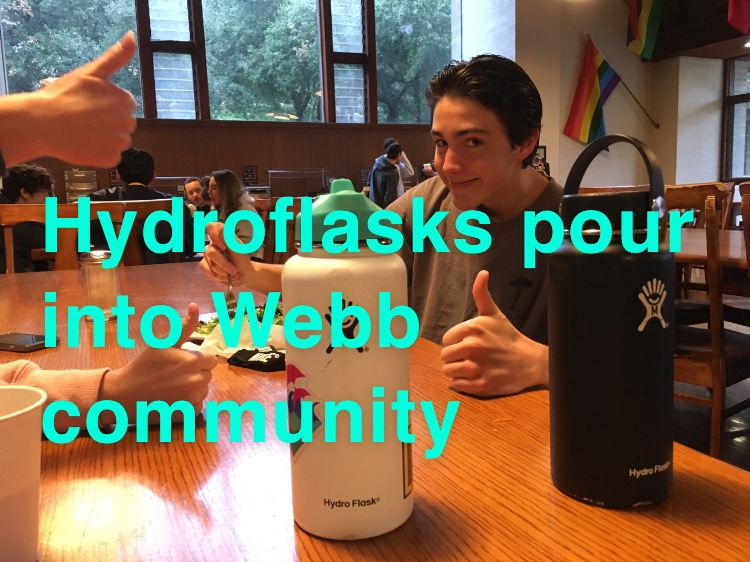 You've seen them. Stout metal cylinders, with plastic straw lids, or screw off tops. Coming in different sizes and colors, Hydro Flasks have overrun the water bottle population at Webb and around college campuses. The metal bottles can be recognized for the small, almost gumby-like, black or white character on the front of the bottle.
Hydro Flask bottles are known for their ability to maintain the temperature of the beverage inside the bottle for long periods of time, hot or cold. Memes on social media sites, like Twitter, have also become popular for teasing Hydro Flask users.
However, these water bottles are not inexpensive. A standard 32 oz Hydro Flask costs around $40 and this price does not include a straw lid.
Many Hydro Flask buyers invest in a lid that comes with a straw so they do not have to unscrew their lid every time they want a drink. The straw lids are extremely efficient though because you can easily drink while walking, driving, or just moving around without having to unscrew a lid and worry about the wide mouth spilling water over your face.
These lids cost an extra $9.95, making your total price come out to a cool $49.95 without shipping and tax.
A fifty dollar water-bottle, is it worth it?
With many dupes for the Hydro Flask being sold at Target and Costco that can keep the water in a bottle just as cool, the question remains: why spend fifty plus dollars on a water bottle?
When asked about why they bought their Hydro Flask, members of the Webb community were eager to respond with their reasoning.
Bella Biane ('19) said, "Because it is hype (the Hydro Flask), and they are plain, they are just straight down and don't have any fancy curves or anything like that. They aren't too branded so you can keep them plain or add stickers if you want."
Sara Hagiwara ('20) said, "I use Hydro Flasks because they are durable and they keep my water cold, so I like to keep ice in it so when I put more ice in it the water is always cold and I can use the ice for a long time."
When asked about why they use the "off-brand" hydroflasks, others described close similarities between Thermoflasks and Hydro Flasks.
Eric Mejia, a freshman at a local university, said, "I use a Thermo Flask because it can obtain cool and warm beverages for a long amount of time. I got my Thermo Flask because my [college] gave it to me for free."
Doris Yuan ('20) said, " I use a Takeya water bottle and I like it; I don't really drink water,"
And others simply wanted to be recognized for their knowledge of the water bottle industry, despite lacking any actual product.
JP Calderoni ('19) said, " I don't use a water bottle but can you say I use a Hydro Flask, and say that I like it because it keeps my water cold."
I have been a Hydro Flask user for two years now. I must admit, I have an unusual attachment to my water bottle. After my first one was stolen my sophomore year, I have become insanely in-tune with where my Hydro Flask is at all times. It does not leave my side.
In fact, the few times I have misplaced my water bottle, I have found myself becoming dizzy, tired and even sick. I experienced these symptoms probably because I have become accustomed to drinking two or three bottles of water a day, not because my Hydro Flask is missing.
This phenomenon is actually very common among daily water drinkers and their bottles. In reality, it has nothing to do with the brand of bottle and more to do with the bodies awareness of the lack of hydration.
If you would like to join the Hydro Flask bandwagon at Webb and before college, be prepared to have cool water, and an even cooler bottle.
About the Contributors
Gracie Reda, Co-Editor of Culture and Lifestyle
Gracie Reda ('19) is new to the Webb Canyon Chronicle and its cultural analysis, but is no stranger to journalism. Since the sixth grade she recalls...