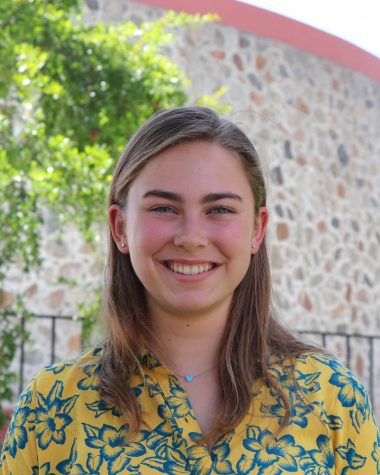 A citizen of the United States and Switzerland, Nichola Monroe ('22) is a global traveler, activist, and leader.
She is joining the staff of the Webb Canyon Chronicle, and hopes to explore questions of social justice, especially economic inequality. In her spare time, Nichola plays the piano, participates in the winter dance show, and watches documentaries (her current favorite is
Free Solo
). She has a diverse taste in music, ranging from movie soundtracks, to classical, to country, to new wave, and she thinks you should give her playlists a chance. This year, Nichola plans to support the schoolwide sustainability campaign since it complements one of her passions: environmentalism. She has been fully vegetarian since orientation, and aims to continue this meatless lifestyle throughout the year. She will still eat lots of curry.
Nichola Monroe, Staff Writer
Sep 14, 2020

Anjali Desai ('21) launches ZigZag the Brand during the pandemic

(Story)

Sep 13, 2020

Webbies put on their dancing shoes with Mr. Szanyi at Convocation

(Story/Media)

May 27, 2020

Webb prepares for a return to campus

(Story)

May 06, 2020

How the two-school model blocks school unity

(Story/Media)

Mar 27, 2020

Living in the age of COVID-19

(Story/Media)

Mar 22, 2020

How the coordinate model divides gender in our dorms

(Story/Media)

Mar 05, 2020

Webbies "Blast to the Past" at the sophomore dance

(Story)

Feb 04, 2020

Local student activists stay woke at diversity conference

(Story)

Jan 24, 2020

Environmental Club's Community Dinner promotes sustainable diets

(Story/Media)

Jan 17, 2020

Who is Rosetta Lee?

(Story)

Dec 18, 2019

Webbies clean Webb Canyon Road

(Story)

Dec 12, 2019

Webbies apply their architectural talents to gingerbread houses

(Story/Media)

Dec 12, 2019

Webb rocks around the holiday tunes

(Story)

Nov 18, 2019

Do quiet study hours mean productive study hours?

(Story)

Nov 06, 2019

Savanna Cespedes wins SoCal Athlete of the Week

(Story/Media)

Nov 02, 2019

VWS tennis battles in league individual prelims

(Story)

Nov 02, 2019

Do not take a 'pom' for 'granate' – Webb's fruitful campus

(Story)

Oct 27, 2019

Super duper Hooper renovations require flexibility and patience

(Story)

Oct 21, 2019

Meet the International Student Program

(Story)

Sep 30, 2019

Students rise to global responsibilities for International Day of Peace

(Story)

Sep 12, 2019

Students rock the Block… Party

(Story)