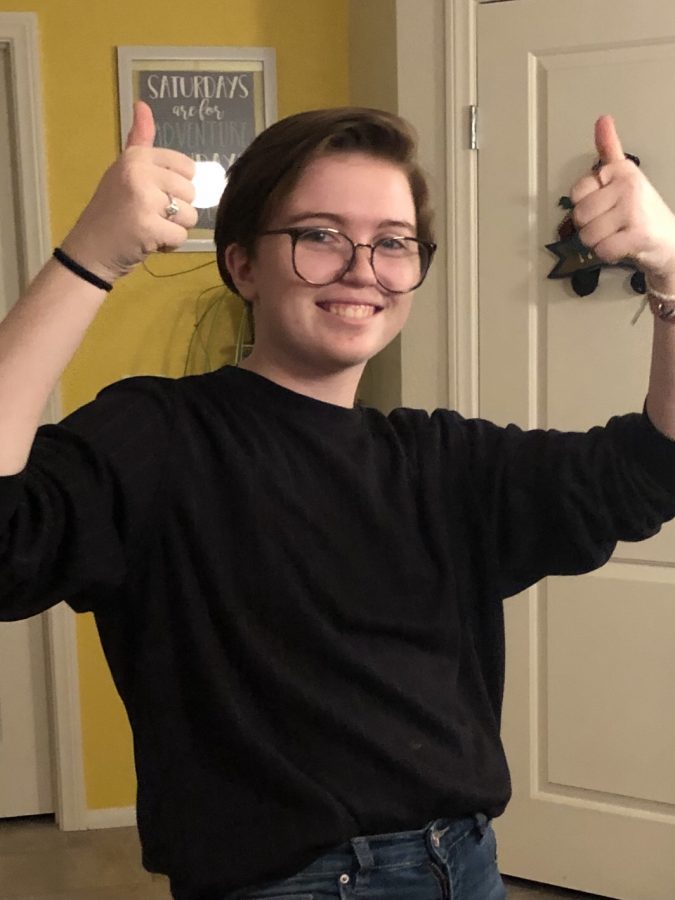 After using her summer to create a small business selling custom embroidery, Keigan McCullagh ('21) is coming back to school as a senior. 
Keigan 
has been with the Webb Canyon Chronicle for two years,
improving 
and learning throughout her time. She fondly remembers getting her first article
publishe
d 
and 
reflects on her growth
 as a writer
, a
nd
 s
he 
is 
now
 the Editor of News
for the WCC 
this year
.
She is
 also
 the
 Co-President of 
Webb's 
LGBTQ+ and Allies Club and Vice President of our 
USITT
 chapter. Her astrological sign is Libra
. S
he loves to learn about history. You can always find her playing the guitar or listening to music, her favorite
 bands
 being Fleetwood Mac 
and
 t
he Lumineers. 
Besides music, s
he loves her dog Lily
.
 Also, Keigan's favorite food is chicken nuggets. K
eigan's goal for the WCC this year is to report more breaking new
s
 in hope of shedding light on important subjects the Webb community should know about. 
S
he
would also like to
 encourage everyone to go vote
 for the 2020 election
!
Keigan McCullagh, Editor of News
Nov 19, 2020

Webb stops advertising unique opportunities at semester schools

(Story)

Nov 07, 2020

Joe Biden declared president-elect

(Story)

Nov 04, 2020

America votes in historic election

(Story)

Nov 02, 2020

Young Webb Democratic voters head to the polls

(Story/Media)

Oct 07, 2020

Students find creative ways of staying in touch online

(Story)

Sep 23, 2020

Webb students mourn Justice Ruth Bader Ginsburg

(Story/Media)

Sep 16, 2020

Prefects host the first ever virtual Welcome Back Weekend

(Story)

Mar 27, 2020

Living in the age of COVID-19

(Story)

Mar 26, 2020

Throwback Thursday: WSC boarders show off their dancing skills at Webb Idol

(Story)

Mar 24, 2020

Service: Small actions can make a difference

(Story)

Feb 04, 2020

Timeline: What you need to know about the situation with Iran

(Story)

Jan 22, 2020

Students explore Japanese American National Museum

(Story)

Jan 15, 2020

Rosetta Lee teaches the Webb community to initiate courageous conversations

(Story)