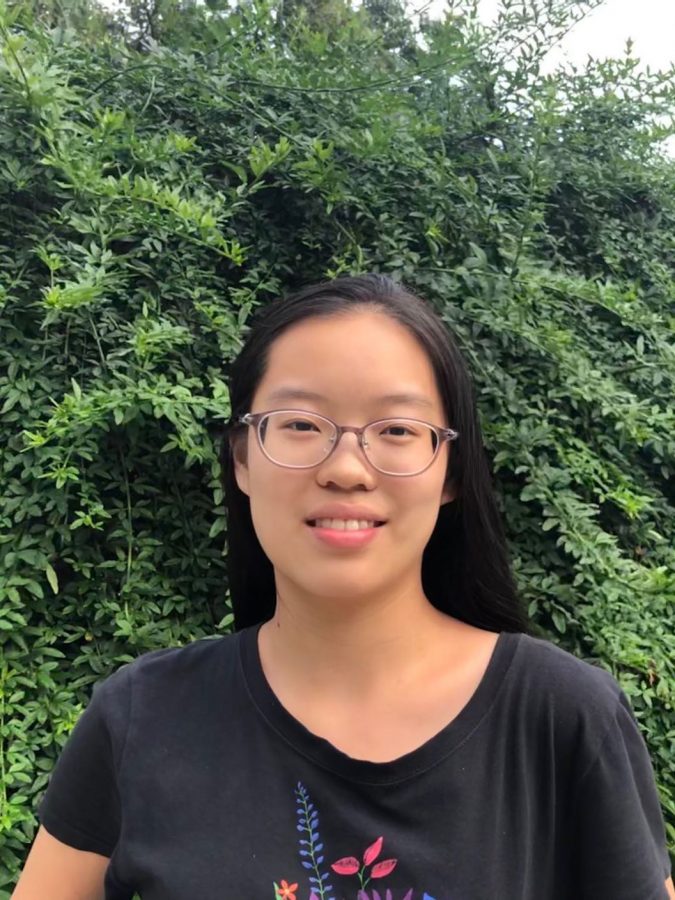 To
Sunny Yu
(
'
22
), nothing is impossible
. Boasting the impressive title
s
of co-editor of
Opinion of
WCC, VP of the Bookworm club,
and
editor of her own
blog
,
Sunny uses her extensive knowledge and experience
s
to help educate others about the world around
us
. As a strong advocate for human rights, Sunny makes sure to not let any voice go unheard. Along with her diverse interest
s
regarding the fourth estate, she regularly likes to indulge in a captivating book
,
such as
her favorites,
The Handmaid's Tale
or
The Sympathizer
.
Sunny
also thrives in her humanities classes and occasionally likes to enjoy a good ol' bowl of noodles from Webb's cafeteria. On the weekends, she would often opt to go on a run
,
hang out with her friends
, or watch her favorite TV show,
Friends
.
Her
love of journalism has allowed her to provide a fresh perspective on the world through her writing.
Sunny's willingness to grow and challenge herself everyday definitely sets her apart as one of the strongest writers of this generation
, a gift she loves to share with the WCC
.
Sunny Yu, Co-Editor of Opinion
Oct 27, 2020

Why it is important to engage in conversations with different minded individuals

(Story)

Oct 05, 2020

The ban on WeChat disconnects Webbies and their important contacts

(Story)

Sep 24, 2020

The Bookworm Club brings together a community of readers with its first online meeting

(Story)

Sep 22, 2020

Webb students reunite in Beijing and Shenzhen

(Story/Media)

Sep 18, 2020

"How to Be an Antiracist" sparks insightful conversations with antiracism

(Story/Media)

Sep 15, 2020

Webb students seek to strive in online learning despite many challenges

(Story/Media)

Sep 09, 2020

First day of classes: Webb students embark on a new online learning adventure

(Story)

Aug 11, 2020

Change makers fight injustice and racism in the age of COVID-19

(Story)

May 25, 2020

Jubilee connects the Webb community

(Story)

Mar 27, 2020

Women in sports: Spotlight on female athletes at Webb

(Story/Media)

Mar 27, 2020

Living in the age of COVID-19

(Story)

Mar 24, 2020

Service: Small actions can make a difference

(Story/Media)

Mar 16, 2020

On the track, Webbies run, jump, throw, and excel

(Story/Media)

Feb 17, 2020

VWS soccer gets another win in the first round of CIF playoffs

(Story/Media)

Feb 07, 2020

Honor and trust: it is a collective effort to create a safe community

(Story/Media)

Feb 06, 2020

VWS varsity soccer snatches another Academy League Championship

(Story)

Feb 04, 2020

Coronavirus spreads into the United States and alerts Webb students and faculty about personal hygiene

(Story/Media)

Feb 04, 2020

Social media is a dominating and dangerous news source

(Story/Media)

Jan 31, 2020

VWS sophomore class resists Chick-fil-A to embrace equality and diversity

(Story)

Jan 27, 2020

How to stress less in the new decade

(Story/Media)

Jan 24, 2020

WSC varsity soccer scores a significant win against St. Margaret's Episcopal High School

(Story)

Jan 24, 2020

Implicit bias challenges journalism ethics

(Story/Media)

Jan 17, 2020

Rosetta Lee's presentation sparks important conversations about social behavior

(Story)

Dec 20, 2019

Webb students travel around the world over winter break

(Story)

Dec 18, 2019

Snapchat map raises privacy concerns

(Story/Media)

Dec 14, 2019

CIF transfer student rule forces athletes to sit out

(Story/Media)

Dec 04, 2019

Helicopter flies over Webb campus

(Story)

Dec 03, 2019

Webb debate team opens the season with a win

(Story/Media)

Nov 22, 2019

VWS and WSC cross country runners sprint their way to CIF Finals

(Story)

Nov 18, 2019

Students enjoy an amazing dance under the moonlight of Hollywood

(Story)

Nov 18, 2019

CIF eligibility rule leads to unintended consequences

(Story/Media)

Nov 08, 2019

Move over Instagram! WeChat is here!

(Story)

Nov 06, 2019

Breakfast magazine resumes a wonderful journey

(Story/Media)

Nov 02, 2019

Student government prepares for a magnificent homecoming in Hollywood

(Story)

Nov 02, 2019

Webb Canyon Chronicle staff meets Michael Barbaro at Scripps College

(Story)

Oct 27, 2019

Webb students vacation in Arizona

(Story)

Oct 24, 2019

How to use dreams to understand our stress level

(Story)

Oct 04, 2019

"Between the World and Me" teaches valuable lessons about diversity

(Story)

Oct 02, 2019

Midweek Target runs refresh Webb students

(Story)

Sep 17, 2019

Webb cross country teams endure the heat

(Story)

Sep 16, 2019

Student government sparks sustainability on campus

(Story)