The eclectic WCC staff shares their favorite songs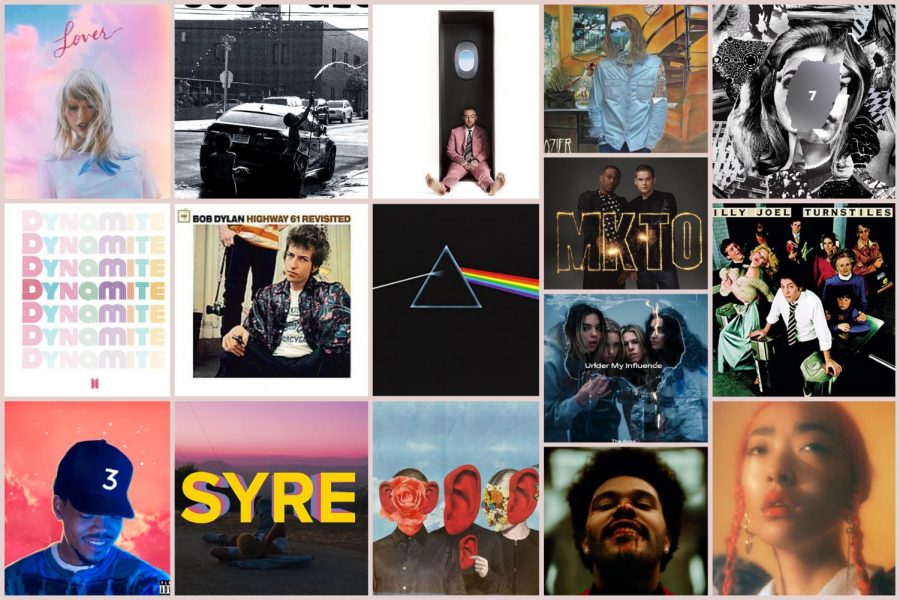 The Webb Canyon Chronicle team welcomes twenty-one new members to our staff for the 2020-2021 school year. Our favorite songs offer a brief snapshot of who we are as writers—a group of students with different interests, who each bring our own stories and perspectives to the WCC.  
Inspired by Sydney Wuu's ('20) WCC staff blasts catchy tunes article published last year, we once again decided to ask everyone on the team for their favorite song. At over two hours long, this year's playlist is sure to give you an odd mix of music ranging from rap to hip hop to psychedelic rock, so there is sure to be something for everyone to relate too.
Abbey Cook: "Classic," MKTO  
The duo MKTO brought their fans "Classic" from their self-titled album MKTO in 2013. This pop song's lyrics speak about a girl who is "shining like a 5th Avenue diamond" and is always the center of attention. The song's catchy lyrics and fast beat make every fan want to sing along. 
Bianca Arteaga: "Cruel Summer," Taylor Swift 
From her album Lover, Taylor Swift depicts a summer love in the song "Cruel Summer." While telling the story of falling in love when she does not want to, Taylor Swift uses her song to comment on the harmful effects the media can have on celebrity relationships. 
Bryan Oglesby: "All We Got," Chance the Rapper  
Chance the Rapper features Kanye West and the Chicago Childrens Choir to create the song "All We Got" from his album Coloring Book. This Hip-Hop/Rap song has a feel-good beat that keeps fans listening on repeat. Chance the Rapper uses the lyrics of this song to exorcise about personal issues, that he delt with to show how music took over his life in the best way possible. 
Cathy Wang: "I Lost a Friend," FINNEAS 
FINNEAS brings his fans the slow-paced song, "I Lost a Friend," which tells a somber story about getting through tough times. The lyrics take fans through the loss of something you had, specifically the loss of a friend, and the process of grieving and growing from the experience. Known for helping write songs for his sister Billie Eilish, FINNEAS released this single in between tours with his sister. 
Claire Diepenbrock: "Drowsy," Banes World  
The most played song from their album Drowsy by Banes World, "Drowsy" was released in 2016. The song tells the story of the singer revealing his true self to his lover. The slow-paced beat with a guitar solo is perfect for fans who enjoy alternative/indie style music. 
Connor Plunkett: "Ultralight Beam," Kanye West 
In the album The Life of Pablo, Kanye West brings his fans "Ultralight Beam," one of the most played songs from the album. Kanye West uses choir vocals to differentiate the song from many of his other rap songs. Kanye West uses the lyrics, which include many references to the Bible, to showcase his faith in this song.  
Cristian Rosales-Cardenas: "Bound 2," Kanye West  
"Bound 2" by Kanye West is a song full of a warm soulful vibe that contrasts the many other songs in the album Yeezus. Kanye West samples the Ponderosa Twins Plus One's 1971 song "Bound," and the intro from Brenda Lee's 1959 record "Sweet Nothings" to add a more R&B feel to the song.  
David Hastings: "Yesterday," Beatles  
"Yesterday" from the album Help! is a classic rock song by the Beatles. This tune currently holds the world record for the most covered song in history with over 1,600 recorded covers. "Yesterday" tells the story of a lost love and the aftermath of grief that comes with the loss. 
Eva Annabi: "Lost in the World," Kanye West  
"Lost in the World" from Kanye West's album My Beautiful Dark Twisted Fantasy began as a poem to Kim Kardashian. Kanye used the ability to alter the sound of his voice to express himself in a different way. The song's lyrics speak on leaving behind the materialistic attributes of the world in order to live full, vivid, and fun experiences. 
George Cardenas: "Us and Them," Pink Floyd 
"Us and Them" from the popular album Dark Side of The Moon by Pink Floyd was released in 1973. The lyrics from this song represent ideas about the pressures of life at the time, and the way that politics and civil injustices separated communities. 
Heloise Robertson: "Ninety," Jaden 
Part of his SYRE album, "Ninety" is a fan favorite from 2017. The lyrics tell a story about a twisted love, and Jaden uses R&B and hip-hop sounds to contribute to the storyline. The music video for the nearly 8-minute song was #5 on YouTube during its debut in March of 2020.  
Kaitlyn De Armas: "You Belong with Me," Taylor Swift 
"You Belong With Me" from Taylor Swift's Fearless album combines pop with a bit of country to create one of the most iconic songs of the 2000s. With over 1 billion views for the music video, the story of an unattainable love lures fans to listen to the 4-minute song repeatedly to this day.   
Kaylynn Chang: "Dynamite," BTS  
With already over 400 million views after only one month since its debut, "Dynamite" by Korean Pop group BTS is a crowd pleaser, reaching the Top 10 of the Billboard Hot 100. The music video makes fans want to get up and dance with its catchy refrain of funk, pop, and 70s inspired color palette. The 4-minute video broke the records for biggest music video premiere on YouTube with over 7 million streams during its debut. 
Keigan McCullagh: "Never Going Back Again," Fleetwood Mac 
From the album Rumors, "Never Going Back" by Fleetwood Mac makes a simple acoustic guitar and chorus into a charming song for their fans. The lyrics tell the story of the struggles of relationships in a short yet delightful three minutes.  
Laura Haushalter: "Walk in the Park," Beach House  
"Walk in the Park" by Beach House is part of the album Teen Dream from 2010. The song relates time and desire along with the sadness of losing something you love. Fans of alternative/indie vibes will find this 5-minute song refreshing to listen to on repeat.  
Leeann Shu: "Break up with Your Girlfriend, I'm Bored" Ariana Grande 
Recognized by pop fans all over the world, "Break up with Your Girlfriend, I'm Bored" is one of the most recognized songs by Ariana Grande. The song hit #2 on the Billboard Hot 100 list behind another one of Ariana's songs, "7 rings," and is a part of the Grammy nominated album, Thank You, Next. The 3-minute video and lyrics capture the story of someone yearning for romance and is easy to watch on repeat. 
Maria Duan: "The Less I Know the Better," Tame Impala  
From the Australian rock band Tame Impala, "The Less I Know the Better" is part of the Currents album. The disco and alternative rock sounds flow together with the lyrics in this 5-minute song that has been used all over TikTok for aesthetic videos. The music video boasts funky vibes but is age-restricted to watch on YouTube. 
Matthew Gaw: "Bohemian Rhapsody," Queen 
One of the most famous songs ever played, British rock band Queen, brings Freddie Mercury's "Bohemian Rhapsody" to the top of their greatest hits. The song contains a variety of music styles including a guitar solo, a ballad, opera, and hard rock, creating a satisfying tune for any music lover. The 6-minute song has over 1 billion views on YouTube and the song itself has been placed into the Grammy Hall of Fame, displaying the legacy of this popular hit.  
Nancy Lin: "Maria I'm Drunk," Travis Scott ft. Justin Bieber 
"Maria I'm Drunk" from the album Rodeo is sung by American rapper Travis Scott and features fellow artist Justin Bieber, as they both contribute to the rap and R&B song. Close to six minutes, the song has heavy themes involving drunkenness and drug use, yet its rhythm and beat make it very catchy. 
Narineh Madikians: "Sundress," A$AP Rocky 
Rapper A$AP Rocky brings together rap and pop in his song "Sundress," sampling music from the Australian band Tame Impala. The beats of the instruments and the vocals connect to create a calming atmosphere, as the 3-minute song tells the story of falling in love with the wrong person. 
Nichola Monroe: "Summer, Highland Falls," Billy Joel  
Written by Billy Joel in Highland Falls, New York, the titled song "Summer, Highland Falls," explores the highs and lows of manic depression. With a gorgeous piano intro, the listener is intrigued to hear more. Through his lyrics, Billy Joel talks about the constant struggle between "Euphoria and Sadness."   
Noe Chock: "801," The Aces 
"801" by the Aces is an alternative/indie song recently released in July of 2020. The Aces share their experience growing up in a small religious town in Utah as members of the Queer community. The lyrics are direct, as they tell the story of struggling to fit into one's community.   
Oma Sukul: "Morningside," Neil Diamond 
"Morningside," is an oldie but goodie; Neil Diamond is one of the bestselling musicians of all time and is known for his soul–hitting lyrics. "Morningside," is no exception to the brilliance of Neil Diamond's storytelling, as the song talks about an old man dying as life moved on from him.  
Paige Woodard: "Cherry Wine," Hozier 
Released as the last song on Hozier's self-titled album Hozier, "Cherry Wine" is not just a good song, but also a track to promote awareness for domestic violence. All proceeds from the download of "Cherry Wine" go to international domestic abuse charities. The soft lyrics set to the backdrop of the guitar tell the haunting cycle of abuse.     
Patrick Dóñez: "Untitled 1," Soul Glo  
"Untitled 1" by Philidelphia punk group Soul Glo is an intense arrangement of sounds creating a short one-minute of a song. The song combines both alternative and punk and can be found on Soul Glo's Untitled LP album. 
Ryan Walker: "Eruption" Van Halen 
"Eruption" is one minute and forty-three seconds of pure guitar. Even though the song is 42 years old, it is still considered one of the best guitar solos of all time because it helped popularize the method of tapping in guitar playing.   
Stephen Li: "The London," Young Thug ft. J. Cole & Travis Scott  
Released in 2019, "The London," is a trap song by American rapper Young thug. The lead single on Young Thug's album, So Much Fun, "The London" is sure to give off good vibes. It is a perfect pregame hype song with a music video boding over 124 million views on YouTube.  
Sunny Yu: "Symphony," Clean Bandit feat. Zara Larsson 
"Symphony" is a catchy orchestral-pop song that will easily get stuck in your head. Do not be fooled by the slow vocal start of the song because by the chorus you will hear the full song bursting with emotion. Not only is "Symphony" a hit in the United States, it is also very popular in European countries.  
Taylor Crawford: "Never Say Never," Justin Bieber 
In 2010, Justin Bieber released his hit song "Never Say Never." Justin Bieber tell fans to never give up and that anything is possible in this inspiring pop song. A year after he released this hit, the singer came out with a documentary about his concert at Madison square garden titled: Never Say Never.  
Vivien Xi: "Come Back to Earth," Mac Miller 
"Come Back to Earth," is the first song on Mac Miller's album, Swimming. Mac Miller was posthumously nominated for the Grammy Award for the Best Rap Album for Swimming. The song sets the tone of self-acceptance and personal liberation for the rest of the album to follow. "Come Back to Earth" is a soft and slow rap song.  
Wura Ogunnaike: "Take Me As I Am," Rina Sawayama  
Released in 2017 on Rina Sawayama's self-titled EP, "Take Me as I Am," gives off nostalgic early 2000's pop vibes. Sawayama uses her lyrics to convey a message about the lack of Asian representation in the pop music industry. "Take Me As I Am," is an encouraging song that will soon have you signing along to its catchy lyrics.  
Yiyi Ouyang: "Blinding Lights," The Weeknd  
The 80's vibe in this 2019 synthwave song will get anyone up and dancing along. In 2020, "Blinding Lights" was nominated for six MTV Music Awards and won two: Video of the Year and Best R&B. One of the most popular songs from The Weekend, "Blinding Lights" stresses the importance of a partner and their rekindled relationship in its catchy and sing-along worthy lyrics.  
Dr. Mark Dzula: "Desolation Row," Bob Dylan  
At 11 minutes and 21 seconds long, "Desolation Row" by Bob Dylan takes the listener through a long, imagistic journey. Filled with literary, biblical, and historical references, the song is often compared to the modernist work of T. S Elliot. Rolling Stones ranks "Desolation Row" as Dylan's 12th best song, however fans would argue that it is one of Dylan's greatest compositions.   
With a staff working from all over the world, at all different times, music is a commonality. We all have a favorite song we love to listen too. We enjoyed sharing our favorite songs with you. Check out our Spotify playlist and maybe you could even find a new favorite song.